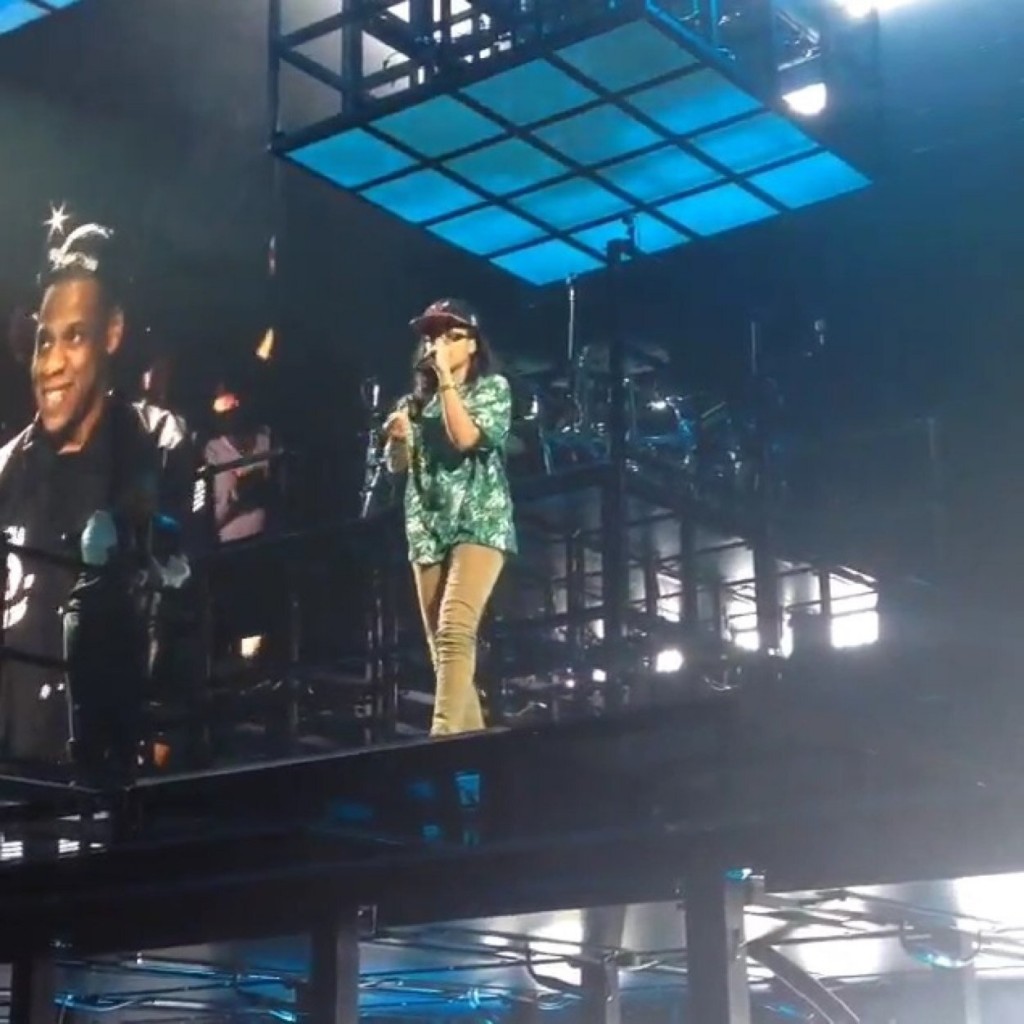 What are the odds of joining Jay Z (READ: Dame Dash Talks Jay Z & People Hanging Around Him To Make Money W/ DETAILS Magazine) on stage once, better yet twice? Slim to none of course. Well, for Chicago femcee MoBo (LISTEN: Mobo – Waves x Freestyle) those odds clearly are in her favor as she followed up her on-stage encounter with Hov back in 2010 , at the tender age of 16, for his Blue Print 3 Tour yesterday by joining him on stage during his  MCHG Tour stop in her hometown.


Once on stage, the now 20 yr. old lyricist, voiced that she went through hell waiting to get the next opportunity to rhyme for the Roc Nation CEO, turned her Chicago ball cap to the front and told to crowd to quiet down so she can rap:
"You gotta be quiet so I can rap for him. I'm tryna get signed tonight and s***"
After she spit her freestyle rendition of "Waves" by Joey Bada$$, she told Jigga he had to sign her and his reply:
"You just told your whole entire life story, huh?, I would've done the same s***. F*** that. It might not happen again. I love you"
Though it's impossible to know whether or not the Hip-Hop mogul will be sending over a contract anytime soon, he did promise to get her number and it has been confirmed that the two  have exchanged contacts. This is personal to me because on New Years day I had a conversation with her via text in which I told her she was extremely smart & passionate and I wasn't worried about her obtaining success. Who knew that 9 days later into the New Year and she'd be trading lines with arguably the greatest rapper of the century.
Salute to RR, TMZ, FSD, ThisIs50, Rap-Up & Power 92 Chicago for giving exposure to young emcee, team work really does make the dream work!
MoBo Raps For Jay Z @ Blue Print 3 Tour (2010):
© 2014, @quinelleholder. All rights reserved.