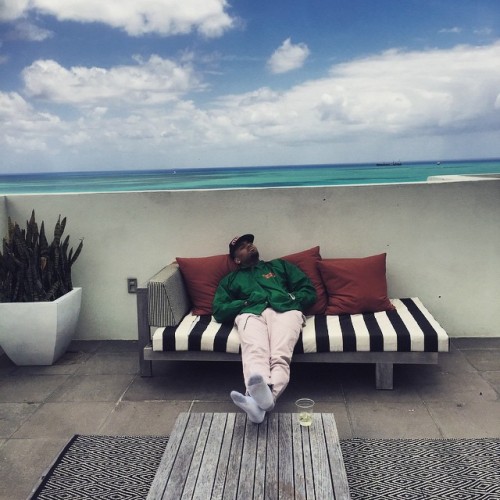 It's kind of hard to take Chris Brown seriously when he speaks on his behavior & things of that nature, but I think we all can agree that he means well. Growing up in the spotlight when you come from so little is an everyday battle to those who experience any type of fame–it changes people, & most times, for the worst.
The women the VA native chooses to share his life with probably play one of the largest roles in his bad behavior, & he understands this as well. Every since the issues between him & Rihanna took over his life, Chris Brown has just gone further & further downhill in public favor. Although Karrueche Tran stood by his side during most of his battles when their relationship came about, he can't seem to cut a break with that situation either.
Their breakup was very widespread throughout the media, & it seems now, anytime Karrueche is seen with another male, talks of she & Chris Brown make headlines all over again. Here's the latest, over Memorial Day weekend, a photo of Karrueche & Tyson Beckford began circulating over the internet. Chris Brown saw the photo & ignited a beef with Tyson Beckford. Shortly after, news began spreading that he squashed it.
Days later, Chris Brown took to his Instagram to sort of raise his "white flag" & reflect on himself for all to see, * hopefully understand. The photo seen above was posted with the caption as follows:
I'm Konfuzed, I always thought I knew the concept of love. Fame and Money can get in the way of that. Most of my issues always deal with love and me being in my feelings. Not to mention me being a dog sometimes. I can't speak for everyone but I can say that my actions contributed a lot to my karma. Being jealous and angry and controlling. There has been times where I looked in the mirror and hated the person I see. I talk to God a lot now. He's given me so much and I feel like I waste his gifts becuz of my impulsive personality. The world is full of negativity and I feel I play a part in it becuz of the choices I've made or mistakes. I tend to accept the negative or the riff raff becuz I know what it's like to be a young black "nigga" in America. I always see the good in people even when they don't see it. I love others more than myself at times. Everything u see on the surface does not reflect what's inside. This is my white flag. I surrender to life and all its blessings. I refuse to be petty and attention seeking. To know me is to love me. Good Bad UGLY! Sincerely, Konfuzed
– Chris Brown
Let's see if actions speak louder than words Breezy. We're all rooting for you..
© 2015, Niyah Nel. All rights reserved.