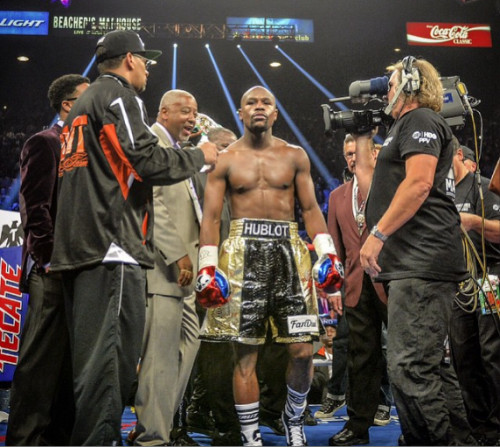 Since the high-profiled Mayweather vs. Pacquiao fight happened & Floyd took home the W, he's been on a media frenzy letting everyone know what's been on his mind in the aftermath. He dialed into The Whoolywood Shuffle a few days ago to discuss the fight, yet again, & share his thoughts.
First & foremost, he goes on record to say that Pacquiao is a sore loser. He then goes into him walking out of the fight with the Burger King mascot, obviously because he "had it his way" for the 48th time in a row.
After talks on his mended relationship with 50 Cent & T.I. & plans for the future, He put it on record that he would like Eminem to perform at his last ever boxing match. This request probably came about because Eminem is a fellow Michigan native & a legend in his craft. If it goes down, Floyd will go out with a serious bang.
Keep it locked as we'll provide more details as they surface!
© 2015, Niyah Nel. All rights reserved.