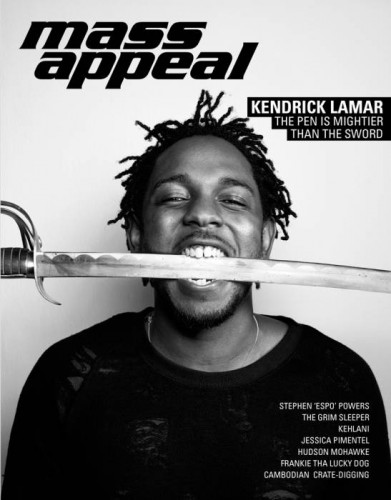 Kendrick Lamar has landed the cover and cover story of Mass Appeal magazine. The To Pimp A Butterfly rapper is featured in issue #56. "The Pen Is Mightier Than The Sword" is the tagline for Lamar's first in-depth conversation since the release of his album. The rapper speaks on which song he would want Tupac on, the original album title, why he chose the first words of the album, the "American dream," and more.
When asked about which song he would like to have collaborated with Pac Kendrick responds
You know when the beat switches on "The Blacker The Berry"? I'd have him go off over that, and tone it all the way down, but in his aggressive tone, man. And give it more of a sincere attribute to the song because the song is so aggressive. But you know when he comes on, his spirit is just so warm, he's gonna speak nothing but the truth. So when that beat breaks down into that, and then goes into "You Ain't Gotta Lie," that's all him.
Speaking on the album's first words "Every N*gger Is A Star" Kendrick said
It represents how I felt when I first got signed. That's the first initial state—you get money, you feel like this. But overall, in general it represents those without money of my color that's rich in spirit. You don't need dollars to feel like you have a place in the world.
On the future of his generation
I think the future of my generation is entrepreneurs times a hundred. We'll probably be one of the most prosperous generations in history. Not only do we have the belief, but we have the work ethic to go out there and get it. We are very independent. We are very confident in our own identity, which is a great thing. Because what this [generation] has is more people starting their own business and not being confined to what [an existing] company has to offer [them]. But, on the other hand, our belief system is gonna play a major part in it. Our belief system is not the way how my parents were, how my grandparents were, and the more and more time goes on, we lose that thought or idea of God and energy. So what happens is we stop caring for people and we stop honoring and respecting people, you feel me? So I think once we grab that aspect back into my generation we're gonna be alright.
Read more here.
© 2015, Julie Aly. All rights reserved.