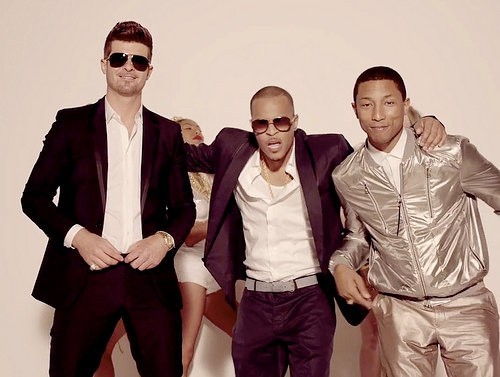 A jury in the case against Pharrell, Robin Thicke, and T.I. has made the decision that their hit, "Blurred Lines" copies Marvin Gaye's "Got To Give It Up." The Gaye family will be awarded with $7.3 million from the song's profits. "Blurred Lines" brought it over $16.6 million dollars with both Williams and Thicke earning over $5 million and T.I. earning $700,000.
Nona Gaye, Marvin's daughter, released a statement saying,
Right now I feel free. Free from…Pharrell Williams and Robin Thicke's chains and what they tried to keep on us and the lies that were told.
A representative for Pharrell, Robin, and Tip issued a statement saying
While we respect the judicial process, we are extremely disappointed in the ruling made today, which sets a horrible precedent for music and creativity going forward. Blurred Lines was created from the heart and minds of Pharrell, Robin and T.I. and not taken from anyone or anywhere else. We are reviewing the decision, considering our options and you will hear more from us soon about this matter.
© 2015, Julie Aly. All rights reserved.