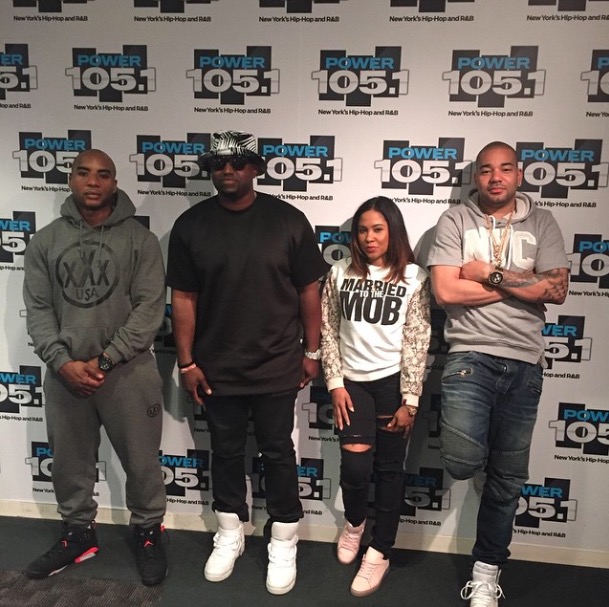 Rico Love has his new album Turn The Lights On earlier this week, so it's only right he stopped by The Breakfast Club for a fresh interview. The super producer turned artist was praised by DJ Envy about his creative process. He talked about Rico Love laying down hooks, concepts, and etc over beats in twenty minutes. He talks about not writing down nothing, so he records off feeling in the moment. He said although that's the process, he admits he knows not everything he record is great when he doesn't write it down first. He talks about not wanting to reach out to people for features on his single. He talked about how hard it was to get Usher & Wiz Khalifa on the remix of his "Somebody Else" record. Usher is his best friend, and it was a challenge. Not throwing shade at anyone, he made a great point, some people will call or text him congratulating him on the new album but they won't promote it on their social media for him.
He opened up about not working with Tiara Thomas any more. Rico believed she was put in a dark place after the fans, and media perception of her falling out with Wale. He talked about signing her based on the records she was making at the time, and the new music she was making wasn't living up to his expectations. He let her out of his deal with her, then approached Interscope if they wanted to keep her, and they didn't so they released her as well.
Speaking on Young Chris, he mentioned that they have a great relationship til this day. When Chris was signed to Rico Love, he set him up with a South Beach Miami apartment that Chris never been to. He also recalled a time when he was working on "Motivation" with Kelly Rowland. After she finished the track, she said Young Chris should be on this, but it eventually went to Lil Wayne. He was speaking on the opportunity that was there had Chris been living in Miami where the record was recorded.
At the end of the day, I have a ton of respect for Rico Love, so I will be purchasing this album off iTunes today.
Make sure you stream his new album here.
© 2015, @BWyche. All rights reserved.