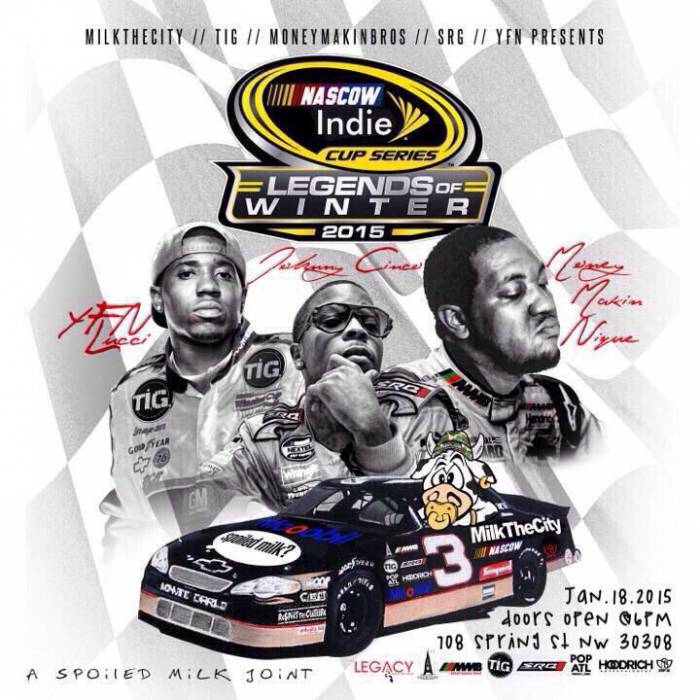 MILKTHECITY, MONEYMAKINBROS , SRG,  YFN and  TIG are set to bring Atlanta an event like no other tomorrow. On Sunday, January 18, 2015 from 5:30 PM to 10:00 PM catch the "Legends Of Winter" concert featuring YFN Lucci, Money Making Nique, Johnny Cinco, JID and Ruch Espy.
Milk the City, Think It's A Game (TIG) Entertainment, the home of Rich Homie Quan and Trinidad James, and Money Makin Bros., are proud to present the music concert, Legends of Winter. The concert, taking place on Sunday, January 18, 2015 from 7:00PM to 11:00PM will be located at the 3rd Armory (708 Spring St.) in downtown Atlanta, GA.
Created by the founders of Spoiled Milk, one of Atlanta's top independent artists' showcases, Legends of Winter will feature artists YFN Lucci ("Know No Better") of TIG Ent., Johnny Cinco ("Saks Religious"), and Money Makin Nique ("Rent Money").
Dontavious "Buck" Collier, CEO of the Spoiled Milk music festival explains, "Rather it's Lucci, Cinco, or Nique, one of these artists will be the next to emerge from Atlanta and create a household name for themselves." He continues, "Unlike Spoiled Milk, where we showcased a multitude of quality artists in the metro-Atlanta area, Legends of Winter was designed to create an intimate environment for the audience to enjoy the artistry of these three individuals – and attest to why they will be legends."
Tickets can be purchased online at legendsofwinter.eventbrite.com or upon entry starting at $10. Patrons can begin arrival at 6:00PM.
© 2015, Eldorado2452. All rights reserved.