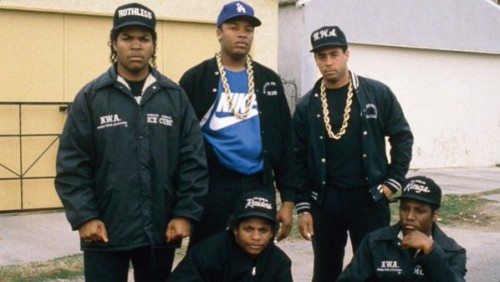 Everyday that we wake up we are given visual reminders that hard work and dedication pays off. In the early 90's when NWA was formed, the odds were against these men and as their fame growth, the World was against them as well. Although they had to overcome obstacle after obstacle, some which resulted in the lost of great young minds, the sun is shining brightest at the end of the road.
The Compton rap crew that changed music and the urban culture forever will be acknowledged for their world and accomplishments. Reports have surfaced this morning that NWA will be inducted into the 2016 Rock And Roll Hall of Fame.
According to nydailynews.com
The groundbreaking Los Angeles rap act N.W.A. will join a quartet of 1970s era FM radio rockers — Chicago, Cheap Trick, Deep Purple and Steve Miller — as 2016 inductees into the Rock and Roll Hall of Fame.

N.W.A., led by Dr. Dre and Ice Cube, was elected after three unsuccessful nominations — a win that may have been linked to the release of a "Straight Outta Compton," a hit movie about their career. Their hard-core tales of life on the street on songs like "F—- tha Police" made them a provocative chart presence in the late 1980s and influenced an empire of other acts.

Both Miller and Cheap Trick made it during their first year on the ballots.
As a young boy about the age of 8 or 9 one of the first cassettes my uncle put me on was NWA's 'Straight Outta Compton' and the older I became I realized the importance of their movement and their voices at the time. NWA not only provided the game with quality music, their stood out as the voices for a generation that were silenced. Much respect to congratulations to NWA for being inducted into the 2016 Rock And Roll Hall of Fame!
© 2015, Eldorado2452. All rights reserved.