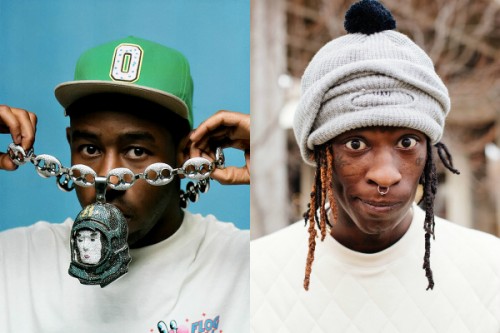 The numbers are in. Tyler, The Creator joined in on the sporadic album releases dropping his fourth studio LP, Cherry Bomb only days after announcing it's upcoming drop. The album debuted at No. 4 on the Billboard 200, falling a bit shorter than what was accumulated from his 2013 release, Wolf. is current release moved 58,000 units, whereas Wolf pushed 89,000. Billboard noted, however, that the physical copies didn't hit stores until the 17th, a week after its digital release.
Young Thug also was spotted on the top 200 list, creeping up at No. 27. Though there is much controversy circulating around The Barter 6 (ya boy is butt naked on the cover for peat sake), it still managed to get off 19,000 units in the first 4 days of its untimely release. He'll be releasing another project this summer entitled Hy!£UN35, so hopefully we'll see better digits with that drop. Look for that release to happen in August.
© 2015, Niyah Nel. All rights reserved.