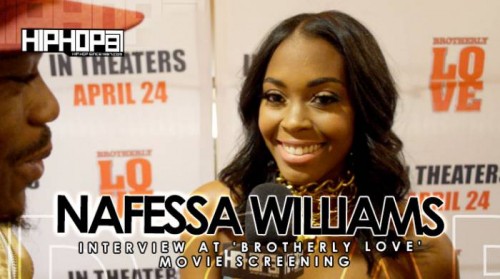 HHS1987 was live on the red carpet of 'Brotherly Love' movie premiere in Philadelphia, Pa on March 31, 2015. We were able to get a quick interview with one of the films' star, Nafessa Williams. She explains her role in the film as Simone, who is Keke Palmer's best-friend, and Cory Hardrict's girlfriend. She talks about recently being in the Lifetime 'Whitney' film, being in the upcoming season four of BET's Real Husbands of Hollywood, and more. She talks about giving back with her acting classes, as well as her motivational speaking.
Set on the backdrop of Philadelphia's famed Overbrook High School, we track the lives of the nations number one high school basketball player Sergio Taylor as he deals with the early pressures of hood fame. His older brother June who had basketball dreams of his own, but after the death of their father he resorted to the allure of the streets to fill the financial void in the home. Finally, their sister Jackie the princess of the bunch who has strong ambitions to pursue a musical career, but is suddenly side tracked by an unexpected encounter with teenage love. This story takes place in a city where the life expectancy of a black male is twenty-five years of age. A city that had over four hundred murders last year alone, and where the unemployment rate is at an all time high. This story is painted with a kaleidoscope of music, sports, and characters that will bring the last two generation closer together by allowing them to see the inner lives of our youths in the journey of Brotherly Love.
Watch the trailer below.
This interview was conducted by HHS1987's EMoney and shot by Rick Dange.
Follow us on Twitter | Instagram
@NafessaWilliams
@HipHopSince1987
@BeatEmUpMoney
@RickDange
© 2015, @BWyche. All rights reserved.