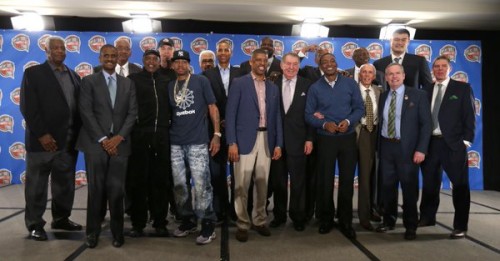 The list of finalist for the 2016 Basketball Hall of Fame has been announced and a few of these names are sure bets. Former Philadelphia 76er Allen Iverson and former Los Angeles Laker Shaquille O'Neal headline the cast of finalist.
Hall of Famers and Finalists join together on stage. #NBAAllStarTO pic.twitter.com/n60LpJmWV2

— Basketball HOF (@Hoophall) February 12, 2016
According to hoophall.com,
The Naismith Memorial Basketball Hall of Fame announced today, at NBA All-Star Weekend, three elite players, nine outstanding coaches, one exceptional referee and one record-setting team as finalists from the North American and Women's committees to be considered for election in 2016. This year's list includes seven first-time finalists: 27-year NBA referee Darell Garretson, eleven-time NBA All-Star Allen Iverson, two-time NABC Coach of the Year Tom Izzo, the first African-American coach in a professional league John McLendon, three-time NBA Finals MVP Shaquille O'Neal, four-time WNBA Champion Sheryl Swoopes and 10-time AAU National Champions Wayland Baptist University.

Previous finalists included again this year for consideration are the only coach in NCAA history to win 100 games at four different schools Charles "Lefty" Driesell, the all-time winningest high school coach Leta Andrews, theall-time winningest boys high school coach Robert Hughes, three-time NBA All-Star Kevin Johnson, three-time Consensus National College Coach of the Year Muffet McGraw, four-time Division III national champion coach Bo Ryan and four-time National Coach of the Year Eddie Sutton.

"To be nominated as a Finalist for the Basketball Hall of Fame is a tremendous accomplishment," said Jerry Colangelo, Chairman of the Naismith Memorial Basketball Hall of Fame. "Each finalist in the Class of 2016 has had a distinct impact on the the game we all love. Selecting the Enshrinees for the Class of 2016 will be a challenging task for the Honors Committee, but we look forward to making the announcement at the NCAA Final Four in April."

As announced in 2015, three distinct modifications have been made to the election process for the upcoming class. Most notably, potential honorees are eligible on the ballot for Hall of Fame enshrinement after four full seasons of retirement – which allows for the inclusion of Shaquille O'Neal and Yao Ming on the Class of 2016 ballot. Absent from the All-Star announcement was Yao Ming, whose nomination falls within the Direct Elect International Committee. Enshrinees from the Direct Elect Committees will be recognized at the NCAA Men's Final Four in Houston in April. Direct Elect Committees include Early African-American Pioneers, International, Contributors and Veterans. New this year, the ABA Direct Elect Committee has been dissolved with those members now aligning with the North American committee. 

The complete list of 10 finalists from the North American Screening Committee includes: players Allen Iverson, Kevin Johnson and Shaquille O'Neal, coaches Charles "Lefty" Driesell, Robert Hughes, Tom Izzo, John McLendon, Bo Ryan and Eddie Sutton and referee Darell Garrettson. From the Women's Screening Committee: coaches Leta Andrews, Muffet McGraw, player Sheryl Swoopes and Wayland Baptist University.

The Class of 2016 will be announced on Monday, April 4 at a press conference in Houston prior to the NCAA Men's Championship game.  A finalist needs 18 of 24 votes from the Honors Committee for election into the Naismith Memorial Basketball Hall of Fame. The Class of 2016 will be enshrined during festivities in Springfield, Massachusetts, the birthplace of basketball, September 8-10, 2016. Tickets for the various Naismith Memorial Basketball Hall of Fame Class of 2016 Enshrinement events are on sale at www.hoophall.com.
Stay tuned to HHS1987 for all your sports news.
© 2016, Eldorado2452. All rights reserved.