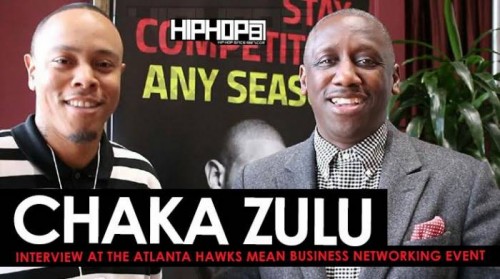 On Friday, March 25, 2016 before the Atlanta Hawks faced the Milwaukee Bucks, the Hawks hosted a special "Hawks Mean Business" networking event and HHS1987's Terrell Thomas (Eldorado) caught up with businessman/ Co-Founder and Manager of Disturbing Tha Peace record label Chaka Zulu to discover the keys to success in the business world.
Chaka Zulu recently created a corporate consulting firm and real estate agency, and is co-founder of record label Disturbing Tha Peace. As the long-time manager of music and film superstar Ludacris, Chaka Zulu directs the multimillion-album-selling label and management company.
Reaching the success in the Business world that Chaka Zulu and his team have, Chaka Zulu spoke on understanding the trends of business, having vision and learning on a curve. Chaka Zulu highlighted the importance of a team in business and what it takes to build a strong team.
Before concluding our time with Chaka Zulu, Chaka spoke on evolution in business, making adjustments and understanding that brands are now competing in a Global market.
The interview was conducted by Terrell Thomas (Eldorado). The interview was shot by Danny Digital.
Follow On Twitter/Instagram:
@uluz3
@AtlHawks
@Eldorado2452
@HipHopSince1987
@DannyDigitall
© 2016, Eldorado2452. All rights reserved.