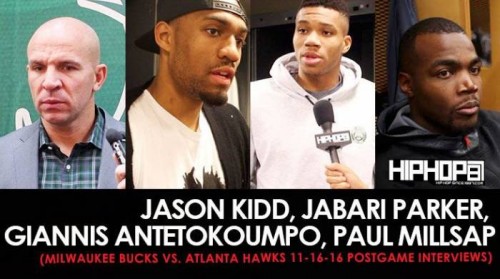 The Atlanta Hawks are now on top of the Eastern Conference after a (107-100) victory last night (11-16-16) at Philips Arena against the now (5-5) Milwaukee Bucks. Despite Dwight Howard and Thabo Sefolosha not playing in last night's game, the Atlanta Hawks picked up their sixth straight win of the season headed into their upcoming matchup against the Hornets. Following the game, we caught up with a few on the players and coaches on both sides to hear their post game remarks.
For the Milwaukee Bucks, head coach Jason Kidd spoke on the Milwaukee Bucks fighting to stay in the game all night but their play just not being nothing to get the win. He spoke on the play of Paul Millsap and facing the Hawks without Dwight Howard. Bucks forward Jabari Parker spoke on his 23 point performance and the leadership from guys like Jason Terry in clutch moment. We also spoke with Bucks star Giannis Antetokounmpo on his 26 points, 11 rebound, 7 assist night. Giannis spoke on playing the point forward position, how teams are guarding him and the Bucks upcoming matchup against the Miami Heat.
For the Atlanta Hawks, with Dwight Howard not playing last night, Paul Millsap stepped up for the Hawks and his 21 points was key down the stretch. Paul Millsap spoke on the play of the Hawks and how their chemistry is all coming together. He spoke on Mike Muscala's success in the role of a starter and the Hawks facing the Charlotte Hornets on Friday night (11-16-16).
The Atlanta Hawks are back in action on Friday night (11-18-16) in Charlotte against the Charlotte Hornets. Stay tuned to HHS1987 for more NBA news. Follow @eldorado2452 on Twitter and Instagram for all your Atlanta Hawks, NBA and sports news.
Follow on Twitter/Instagram:
@ATLHawks
@Bucks
@Eldorado2452
@HipHopSince1987
@DannyDigitall
© 2016, Eldorado2452. All rights reserved.