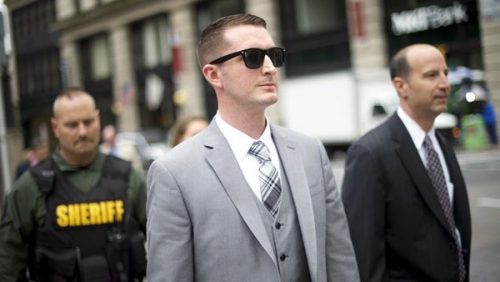 This sad story just continues to be told proving that the so called justice system is a joke. Baltimore police officer Edward Nero has been found not guilty of assault, official misconduct and reckless endangerment during the arrest and death of Baltimore native Freddie Gray on April 12th, 2015.
According to AP,
 As the verdict was read, Nero dropped his head down and his attorney placed a hand on his back. The courtroom was quiet. Nero stood up and hugged his attorney, and was visibly emotional.

The assault charge carried a maximum penalty of 10 years in prison and reckless endangerment carried a punishment of up to five years.

Gray died April 19, 2015, a week after his neck was broken in the back of a police transport van while he was handcuffed and shackled but left unrestrained by a seat belt.

Nero was one of six officers charged in the case. He waived his right to a jury trial, opting instead to argue his case before Circuit Judge Barry Williams. A jury trial was held for Officer William Porter late last year, and the panel could not reach a decision on manslaughter and other charges.

Gray's death set off more than a week of protests followed by looting, rioting and arson that prompted a citywide curfew. His name became a rallying cry in the growing national conversation about the treatment of black men by police officers.

Mayor Stephanie Rawlings-Blake said in a statement that Nero will still face an administrative review by the police department.
Stay tuned to HHS1987 as more details surface.
© 2016, Eldorado2452. All rights reserved.