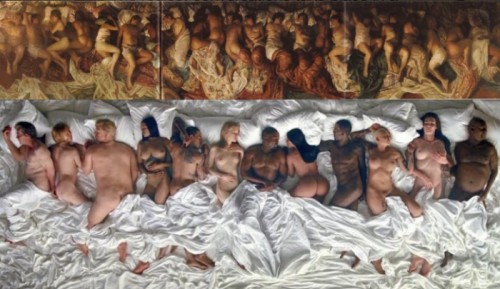 Last night I was in attendance at The Forum in Inglewood,CA, music/fashion mogul Kanye West once again somehow managed to amaze me. Over and over,time and time again,Kanye takes his music and delivers visuals that not only create a picture, at times it can feel as if Kanye takes you into the studio with him and tells you directly what he is about to create and how.
With the success of Kanye West's latest project 'The Life Of Pablo' continuing to sky rocket, and much of the entertainment world being in Los Angeles for the 2016 BET Awards, Kanye West set the stage to deliver a epic experience at The Forum with the video premiere of his record "Famous" featuring Rihanna and Kanye did not disappoint.
In this new "Famous" visual, Kanye West recreates a famous paint by artist and Philadelphia native Vincent Disiderios entitled "Sleep" which recreates a "Last Supper" image of 12 naked bodies (wax figures) laying across a bed. Kanye and his creative team not only brought that paint to life, they used 12 of today's most powerful or influential figures (Bill Cosby, Amber Rose, Donald Trump, Taylor Swift, Ray J, etc) displaying their six degrees of separation all laying sleep. Simply Epic!
I had the pleasure of experiencing the "Famous" video premiere in the club section of The Forum with Kanye West, 2 Chainz, the Street Execs and their G.O.O.D Music family and the energy in The Forum was unmatched. Checkout Kanye West's new visual for his record "Famous" below. Stay tuned to HHS1987 for all your new music. Follow @eldorado2452 on Twitter and Instagram for all your music news.
© 2016, Eldorado2452. All rights reserved.