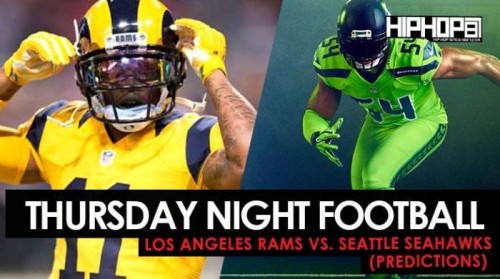 We're headed to the greater NorthWestern region of America to kickoff week 15 of the 2016 NFL season. Tonight the (-) Seattle Seahawks host their NFC West division foes, the (-) Los Angeles Rams.
The Los Angeles Rams have been the headline of the week so far in the NFL after the Rams fired now former head coach Jeff Fisher. Now that the Jeff Fisher era is over, many Rams fans are hoping for brighter days hopefully starting tonight against a team they have beat three straight times and four out of the five last meetings in the Seahawks. I expect the Rams to come out with new energy and a sense of urgency tonight against a familiar foe in a shorten week. Tonight look for Tood Gurley to look like the Todd Gurley of 2015 rushing for over 100 yards and scoring two touchdowns. Rookie quarterback Jared Goff will have a tough time against the veteran Seattle defense, but look for him to toss one touchdown and pass for 200 yards.
The Seahawks were embarrassed on the road during week 14 against the Green Bay Packers and I have a feeling they will be looking for revenge tonight against the Rams. Russell Wilson struggles last week throwing five interceptions so this week, I see three touchdown passes. The Rams have a good defense, but Wilson's play will be on another level tonight. He will once again prove why he is a MVP contender.
Look for Wilson to pass for over 350 yards including the fore-mentioned three touchdown passes. Rams defensive lineman Aaron Donald is one of the overall talents in the NFL, so I don't expect Seattle to do much on the ground rushing. As a unit, the Seahawks running backs will account for 125 yards and 1 touchdown. Tonight, I like the home team. Although I think the Rams will compete and make this a very close game, I don't see Seattle losing two games straight in less than 5 days. Stay tuned to HHS1987. Follow @eldorado2452 on Twitter and Instagram for all your sports news.
Rams 24  Seahawks 31
© 2016, Eldorado2452. All rights reserved.