cho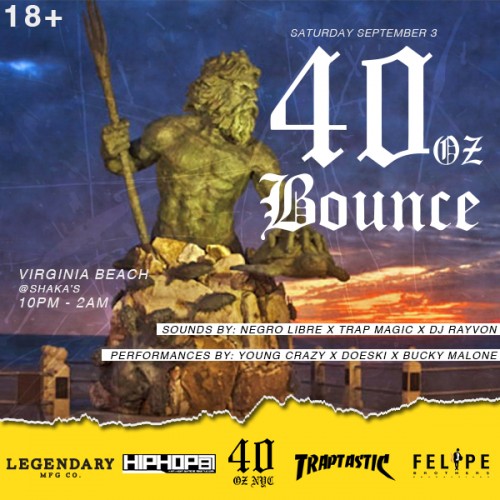 For the past year now, the 757 region of VA has become a scene for young people to come out and have a great time on the weekends. In a city where entertainment can either become scarce or redundant, VA's new party movement, The Traptastic chose a great time to come in and take over.
The acclaimed parties started off on a smaller, rather more exclusive note, that is, before word broke out around town. The exclusivity was short-lived, as everyone now wanted to be amongst the livest party in the area. By the time Summer 2015 hit, The Traptastic was the new wave you wanted to be affiliated with.
Now, Summer 16′, The "Trap Gawds" are ready to take things up a notch. September 2nd, 2016, The Traptastic will be bringing one of the United States' biggest party tours to Virginia Beach, VA–They've partnered with The 40 Oz. Bounce tour.
Some of VA's heavy-hitting artists will be hitting the stage at this party as well. You can catch performances by Young Crazy, Bobby Blaze, Bucky Malone, Doe$ki, and Max Fullard. Tickets can be purchased here.
If you're in VA or the surrounding areas, you won't want to be the one outback for this one!
© 2016, Niyah Nel. All rights reserved.