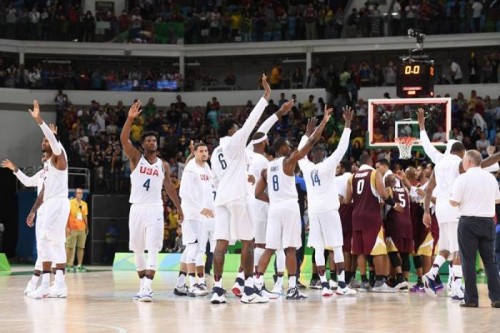 The 2016 USA men's basketball team is on a mission to bring the gold medal home to the United States and yesterday evening they continued their quest defeating Venezuela (113-69).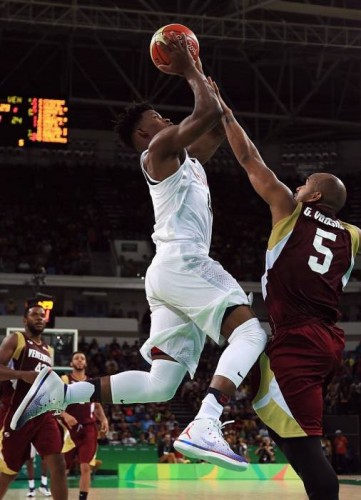 Indiana Pacers star Paul George was Team USA's high scorer with 20 points. Chicago Bulls star Jimmy Butler followed with 17 points.
According to USAB.com, 
The 2016 U.S. Olympic Men's Basketball Team (2-0), which found itself tied with Venezuela (0-2) 18-18 after the first quarter, blew the game open with a 24-4 second-quarter run that propelled it to a 113-69 win on Monday evening at Carioca Arena in Rio de Janeiro.

Sinking 32-of-38 foul shots, the U.S. tied its men's Olympic record for free throws made, and while it wasn't a percentage record, the USA was in impressive 84.2 percent from the charity stripe. 

Paul George (Indiana Pacers), who scored 20 points, including 14 in the fourth quarter, led five U.S. players in double-digit scoring to contribute to the USA's 70 points off of the bench.

"Venezuela is so well-coached," said USA head coach Mike Krzyzewski (Duke). "They are tough guys. They try to control tempo and did for a long period of time. They make you play defense, and then we fouled a lot as a result of that, because you have to play it longer. We didn't get a good offensive rhythm because of their defense, and then in the second quarter, our defense picked up. I thought Jimmy (Butler) was a huge factor in that. He just came in and really gave us a big lift. I thought DeAndre (Jordan), those two guys defensively kind of picked the whole thing up for us. I think we wore them down as the game went along."

The first quarter saw three tied scores and six lead changes as both team struggled to find a rhythm. Kevin Durant (Golden State Warriors) scored the first seven points for the USA, but he, along with DeMarcus Cousins (Sacramento Kings) and George, was whistled for two fouls. Durant got his two fouls in 7:25 minutes of play, while Cousins got his two fouls in only 1:59 and George in 5:00 minutes.

A 3-pointer from Jimmy Butler (Chicago Bulls) with just 8.4 seconds remaining in the first quarter gave the USA an 18-16 lead, but Venezuela, which was 9-of-10 from the free throw line in the first period, made two free throws at 2.4 seconds to make it 18-all at the first quarter break.
The U.S. men continue the preliminary round against Australia at 6 p.m. (all times EDT) on August 10th, followed by Serbia at 6 p.m. on August 12th and a final preliminary game against France at 1:15 p.m. on August 14th. The top four finishing teams from each preliminary round group advance to the quarterfinals on Aug. 17th. The semifinals will be played on August 19th, and the finals are on August 21st. Stay tuned to HHS1987. Follow @eldorado2452 on Twitter and Instagram for all your Team USA sports news.
© 2016, Eldorado2452. All rights reserved.