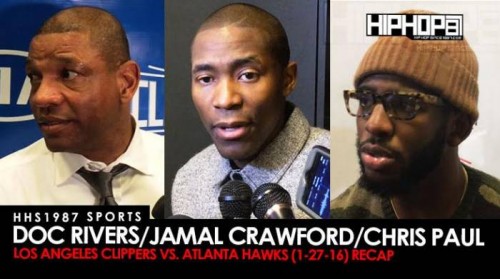 The Atlanta Hawks welcomed Chris Paul and the Los Angeles Clippers into Philips Arena for the last game of the Clippers recent east coast road trip on Jan. 27th and things didn't end the way Hawks fans may have wanted. Late in the fourth quarter, the Hawks and Clippers traded baskets but when the Hawks needed 2 points most with 8.2 seconds left, Hawks all-star Paul Millsap was slightly short and his layup attempt was off as the Clippers defeated the Atlanta (85-83).
DeAndre Jordan scored the gaming basket on a slam dunk assisted by Chris Paul. Jordan finished the game with 13 points and 19 rebounds. Jamal Crawford poured in 21 points and was the games leading scorer. Chris Paul couldn't get his shot going tonight shooting (5-15) but his added 10 assist. Kyle Korver was on fire for the Atlanta Hawks from behind the arch shooting (4-4) from three point land.
After the game, Los Angeles Clippers head coach Doc Rivers and Clippers stars Chris Paul and Jamal Crawford addressed their win against the Hawks, their teams recent distractions and their east coast road trip. The Clippers are now (12-3) without Blake Griffin this season. Griffin will miss the next 4-6 weeks with a hand injury.
The video shot and covered by Terrell Thomas. The video edited by Rick Dange.
Follow On Twitter/Instagram:
@LaClippers
@CP3
@DeAndreJordan6
@Jcrossover
@Eldorado2452
@HipHopSince1987
© 2016, Eldorado2452. All rights reserved.