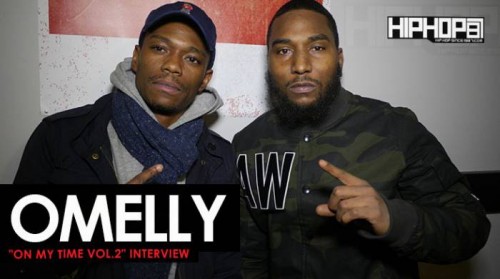 HipHopSince1987 traveled to an undisclosed location where Meek Mill was rehearsing or an upcoming concert. While on the scene, HHS1987's own E-Money and Rick Dange linked up with the number 1 artist on DreamChaser Records, Omelly for an Exclusive interview. In this interview, Omelly talks about the creative direction for his latest project, On My Time 2. He talks about making music for the streets, trap and for the ladies. He also breaks down his recording style, not using any freestyle beats, his "no pen no pad" writing style, and being able to make a song unlike others rapping.
When it comes to the features & production on the project, Omelly has recruited some of the biggest names in the game. This project features production from super producer Jahlil Beats, and has records featuring artist like YFN Lucci, Lil Durk, Chief Keef, and more! Omelly said he was only in the studio with Chief Keef and Tato as far as features on his project, but he will be filming videos for a majority of the records on this project.
Omelly talks to E-Money about his new label situation with Empire. He hinted at working on his On My Time volume 3, and you can expect a Dreamchasers compilation project. Omelly also runs down the current DC lineup.
Omelly takes time to explain how Da Chasers black out the negativity that comes their way and much more. This interview was conducted by HHS1987's E-Money and shot by Rick Dange.
Follow Us on Twitter/Instagram at:
@Omelly215/@Omelly
@HipHopSince1987
@EmoneyBeatz/@BeatEmUpMoney
@RickDange
© 2017, RickDange. All rights reserved.