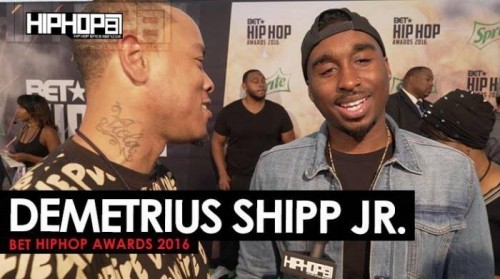 Friday June 16th can't come fast enough for many hip-hop lovers across the World. Tomorrow, the highly anticipated film "All Eyez On Me" The Untold Story of Tupac Shakur hits the big screen.
"All Eyez On Me":
ALL EYEZ ON ME tells the true and untold story of prolific rapper, actor, poet and activist Tupac Shakur. The film follows Shakur from his early days in New York City to his evolution into being one of the world's most recognized and influential voices before his untimely death at the age of 25. Against all odds, Shakur's raw talent, powerful lyrics and revolutionary mind-set propelled him into becoming a cultural icon whose legacy continues to grow long after his passing.
Back in September 2016, HHS1987's Terrell Thomas caught up with the star of Code Black's film "All Eyez On Me" Demetrius Shipp Jr. Demetrius Shipp spoke with us on his role as Tupac Shakur and the film's upcoming release. Set to hit the big screen soon, Demetrius Shipp gave us some insight on the hidden secrets on Tupac's life the film will reveal and he spoke on Tupac's impact on the Urban culture.
Watch our interview with "All Eyez On Me" star Demetrius Shipp Jr. below. "All Eyez On Me" hits theaters on Friday June 16th. Make sure your go see the film!
© 2017, Eldorado2452. All rights reserved.