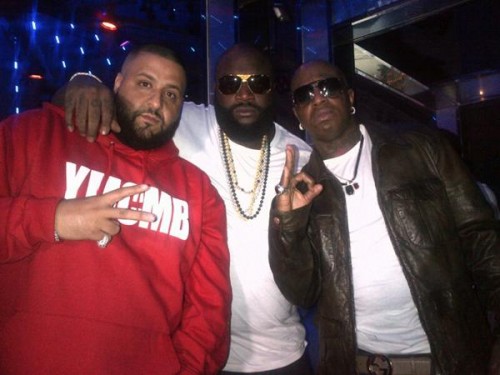 This morning, on The Breakfast Club, DJ Khaled took to the airwaves to open up about the Rick Ross and Birdman feud. Read a few of the standout comments the We the Best mogul made and watch the video recap below!
On Rick Ross:
"Ross is my brother. That's Day 1. That's family. Me and him come from the bottom, the mud, to marble floors. When he's shouting me out on that record, that's what you call a real friend. He loves me and I love him back. Me and him are forever. Music or no music. It's Khaled and Ross forever. That's my brother and I appreciate the shoutout."

On Birdman:
"Birdman, that's my friend. I want to be clear. As far as anybody that has a situation, I pray and hope that people can talk to each other and work things out. Birdman? All that is, is at one point, I just moved on with We the Best. I got nothing but love for Birdman and Slim. They gave me an opportunity. I appreciate every opportunity that's ever given to me. it doesn't matter what happens through that opportunity, it's an opportunity. I'm grateful for that."

I don't discuss business, but at the end of the day, me and them are good. I got love for everybody. I love Ross. I love Bird. I love Slim. I love everybody. I hope that all that stuff gets fixed some day, if there is a problem."
© 2017, MariaMyraine. All rights reserved.