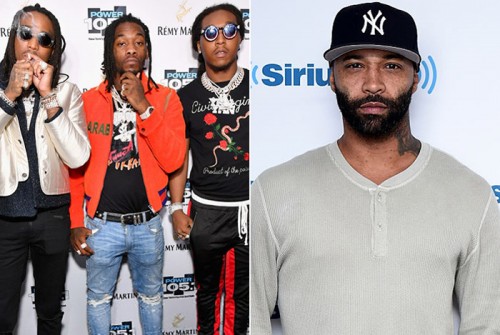 Looks like Migos are clapping back at Joe Budden, and the entire Everyday Struggle cast. The group is preparing to unleash their diss track, "Ice Tray" with a video to match. Quavo decided to give a preview of what the video looks like. Apparently, Migos hired some look-a-likes of Budden, Academics and Nadeska with a sign that reads "Old Rappers Struggling" in the background.
Oh boy.
On the record, Quavo raps: "Ice tray on n**gas, flooded. If a n*gga hating' call him Joe Budden. Coupe outside and it's press-button. Had that n**ga mad cos your b**ch f**kin."
Not sure what kind of response Migos wanted but Joey kept it simple. Peep below.
I would've just done the video had someone called me smh

— Joe Budden (@JoeBudden) December 10, 2017
© 2017, MariaMyraine. All rights reserved.