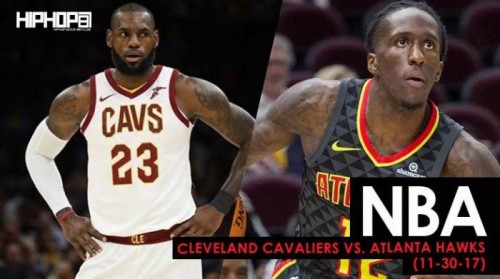 LeBron James and the Cleveland Cavs bought their 9 game winning streak to Philips Arena on Thursday night and despite a great effort from the Hawks, the Cavs made it 10 in a row after their matchup at Philips Arena.
Last night (Nov. 30th), the Cleveland Cavaliers defeated the Atlanta Hawks (121-114) to pick up their 10th straight win. LeBron James put on a show in Philips Arena but it was more for his defensive efforts. James finished the night with 24 points and 12 assist but his defense on Hawks point guard Dennis Schroder in the second half was one of the keys to the game.
Schroder was a big problem for the Cavs in the first half. Dennis finished the first half with 17 points and he was blowing pass all of the Cavs defenders until LeBron told that defensive assignment. Schroder finished with 27 points on the night but just 10 points in the second half. After the game LeBron spoke on Schroder's speed and quickest and what he did to slow he down.
Kevin Love was the leading scorer for the Cavs. Love finished the night with 25 points and 16 rebounds. Dwyane Wade lead the way for Cleveland's second unit. Wade finished the night with 19 points. Jae Crowder added 15 points and Jeff Green added 12 points. The Cavs second unit was key to Cleveland's victory with their play in the fourth quarter.
For the Hawks, as mentioned the leading scorer on the night was Dennis Schroder. Hawks rookie John Collins was explosive in the first half but it seems the Cavs made him work harder in the paint during the second half. Collins finished the night with 13 points and 7 rebounds. Ersan Ilyosova was big in his return scoring 22 points off the bench while Marco Belinelli added 18 points.
Both the Hawks and Cavs are off Friday but they both return to action on Saturday. Saturday the Hawks will be in Brooklyn to face the Brooklyn Nets. Saturday night for Cleveland, they will be home hosting Marc Gasol and the Memphis Grizzlies. Stay tuned to HHS1987 for more NBA news. Follow @eldorado2452 on Twitter and Instagram for all your Atlanta Hawks, NBA and sports news.
© 2017, Eldorado2452. All rights reserved.