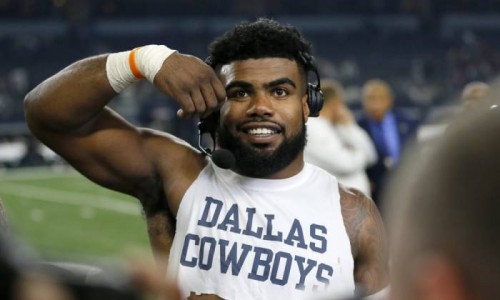 Well Damn, talk about a big swing in events. Just a few days ago, it appeared as if the Dallas Cowboys would be without their star running back for the beginning 6 games of the 2017 NFL season. Now, after Judge Amos L. Mazzant III in Texas has granted a temporary restraining order to prevent the implementation of the suspension, Zeke is free to play Week 1 and possible the entire 2017 NFL season.
The Judge who reviewed the case ruled that Ezekiel Elliott didn't receive a fair hearing before the NFL arbitrator so Elliott's suspension has been blocked. Zeke will be in the Cowboys lineup on Sunday and he may be good to play all season. I still believe that Elliott will be suspended at some point, it just may not be during the 2017 regular season. The NFLPA had the following to say:
Our statement on today's ruling on the temporary restraining order in the Ezekiel Elliott case: pic.twitter.com/g46h7qh2GI

— NFLPA (@NFLPA) September 8, 2017
Stay tuned as more details are revealed.Follow @eldorado2452 on Twitter and Instagram for all your NFL and sports news.
© 2017, Eldorado2452. All rights reserved.