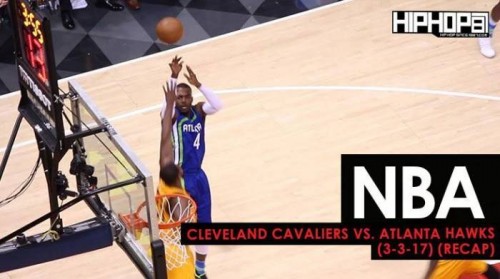 On Friday March 3rd, the Atlanta Hawks moved on to a record of (34-27) after losing to the (42-18) Cleveland Cavaliers (135-130). The game was full of highs and lows for Atlanta Hawks fans.
The Atlanta Hawks trailed the Cavs by 25 points in this game but fought back to cut the Cavs lead to just three points. Hawks guard Tim Hardaway Jr. had a career night scoring 36 points on (13-20) shooting. Paul Millsap was (9-16) from the floor with 27 points and 9 rebounds. Dwight Howard added 15 points and 10 rebounds while Dennis Schroder added 17 points and 7 assist. The Hawks never led in this game however they exploded for 42 points in the fourth quarter to make it a game late.
For the Cleveland Cavaliers, both Kyrie Irving and LeBron James had phenomenal performances. LeBron James finished the night with 38 points, 13 rebounds and 8 assist. Kyrie Irving scored 43 points and 9 assist on (14-21) shooting from the field. Irving was (5-8) from the three point line. In his first game back to Philips Arena, former Atlanta Hawks sharp shooter Kyle Korver scored 9 points going (3-7) from the three point line. As a team the Cavaliers hit 25 three pointers setting a new NBA record.
The Cleveland Cavaliers vs. Atlanta Hawks matchup was covered by Terrell Thomas. The Cleveland Cavaliers vs. Atlanta Hawks matchup was shot by Danny Digital. The Atlanta Hawks are back in action on Sunday (March 5th) vs. the Indiana Pacers and Monday (March 6th) vs. the Golden State Warriors. Stay tuned to HHS1987 for more NBA news. Follow @eldorado2452 on Twitter and Instagram for all your Atlanta Hawks, NBA and sports news.
Follow On Twitter/Instagram:
@ATLHawks
@Cavs
@Eldorado2452
@HipHopSince1987
@DannyDigitall
© 2017, Eldorado2452. All rights reserved.