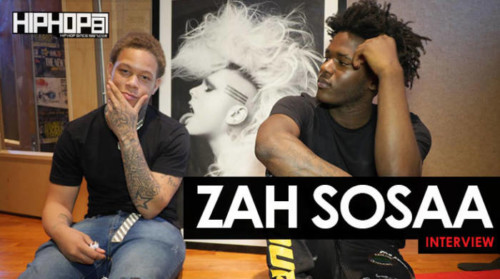 In 2018 it feel like the youth have really taken over Philadelphia's new emerging music scene. One young artist that is paving the way in Zah Sosaa. Hailing from North Philly, Zah Sosaa has been making all the rounds in the city and putting in all the ground work to setup a long and successful career. This weekend Zah Sosaa dripped his highly anticipated Mixtape titled "Already Paid" Which is named after his label.
Recently HipHopSince1987's own Rick Dange sat down with Zah Sosaa in HDE Studios for an exclusive interview about about his life, his music, and his future in the music industry. The 2 talked about how Zah Sosaa got in the game and how he actually came up with his name. They also talked about creating his latest project "Already Paid" and more new music that he is planning on releasing soon. Besides his album, Zah Sosaa also spoke about performing at "The Roots Picnic" last month as well as his upcoming performance at Jay Z's "Made in America" festival on September 1st & 2nd in Philly, plus much more!
Checkout Zah Sosa's Exclusive Interview NOW aswell as his new mixtape "Already Paid" below!!
This interview was shot & edited by Rick Dange.
© 2018, RickDange. All rights reserved.