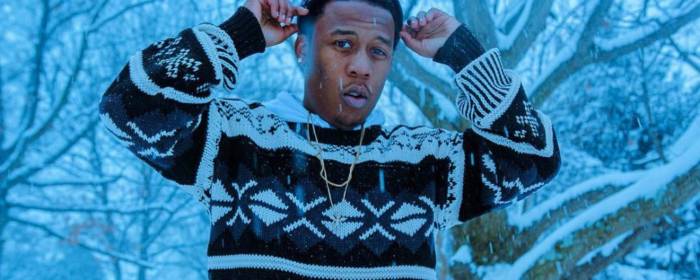 Recent years in hip-hop and especially in 2018, it's all about the artist that can do both music productions and performances! Kev Rodgers has been making his mark as a producer on the scene but has also been proving that his bars, songs, and shows are just as good as his production!
In an exclusive interview with HipHopSince1987.com via email Kev says he first got into music by
"(I started) rapping with my brothers and cousin around 8 years old. When I was 14 I would leave school early to learn how to make beats. I was trying to make original beats, I was really inspired by Timbaland, Kanye West, and Jahlil beats. Fast foward to 2015 I was producing and recording full projects for myself and artists like Ish Williams and Mir Fontane!
He linked up with many local artists at the same time and turned his hobby into a lifestyle. His music mirrors his life with most topics and songs truthful to his roots in music and life. In his new song "Nervous" produced by another standout producer artist KilConfirmed that dropped this past week, they collab to bring a signature sound that is native to the tri-states.
Kev Rodgers is a South Jersey native taking his talents to the world by way of Philadelphia and New York. As the co-producer on Jaden Smith's GOLD single, "
Icon
", he's seen the proof in his hard work taking off.
Kev has an album called "The Rare One Story", dropping on 8/17. You can definitely check for that next week here on HHS87.com! Additionally, he's produced for 300 Ent signee 
Mir Fontane
 , Ish Williams, Mike Zombie, Kenif Muse, and so many more. Check out some more music and videos below!
Kev has a truly unique story about starting to produce and rap at the same time. Of the time he first felt his hard work pay off he says
"The moment I knew, I was 17 and this female mc from Camden I was working with at the time named "Rell Rock" invited me to bat cave studios in Philadelphia to produce a song featuring Gillie Da Kid. I was still in high school at the time and to my area that was something significant with my beats that made me feel from a amateur to a career in their eyes."
Check out some full album projects below…
Seemingly humble at a young age with an impressive work ethic he knows how to give advice as well as take some from the greats such as Jahlil Beats.
"tell him it's never gonna be the one he thinks just work" This was the same year as producing breakout "Mir Fontane" mixtape.
This mixtape, as well as a lot of Kev's work, is paying homage to the positive messages of hip-hop culture and trying to pay it forward from the tri-state area to the world He says that,
 "The moral is don't chase hits, they'll come to you if you work hard and do what you do best."
This here is wisdom beyond the ages, as I heed this same advice in all aspects of professionalism. Kev's music and messages are motivating and inspiring. His production and artistry, as well as resume, is unmatched for being fairly new to the game!
Make sure to stay tuned to HipHopSince1987.com this week for his new album called "The Rare One Story"!
© 2018, Seth Barmash. All rights reserved.