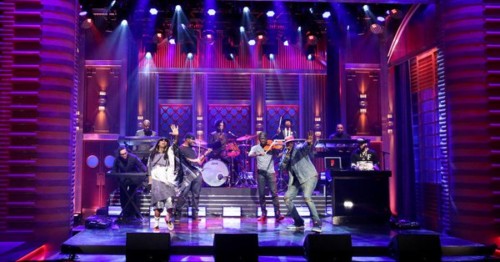 This week, "The Tonight Show Starring Jimmy Fallon" has an impressive lineup of hip hop artists set to make appearances on the NBC show, including Lil Wayne, Quavo, and Travis Scott.
View this post on Instagram
Both Lil Wayne and Travis Scott will chat with Fallon about their recent albums releases, while Quavo is confirmed to hit the stage for an epic performace. Tonight (Tuesday, Oct 2nd), Hip-Hop artist Lil Wayne will be the special guest. Make sure you stay tuned all week long and catch your favorite Hip-Hop acts on "The Tonight Show Starring Jimmy Fallon".
"The Tonight Show Statting Jimmy Fallon" upcoming schedule:
Tuesday, Oct. 2 – Lil Wayne
Thursday, Oct. 4 – Quavo
Friday, Oct. 5 – Travis Scott
Follow @eldorado2452 on Twitter and Instagram for all your music and entertainment news.
© 2018, Eldorado2452. All rights reserved.