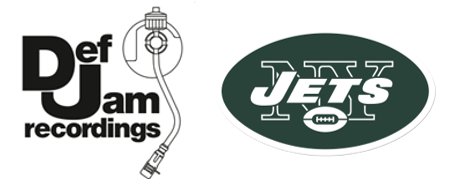 The start of the 2018 NFL season is right around the corner and as we get closer to kickoff, the New York Jets are making headlines and its not for the play of Sam Darnold.
What happens when you bring @TheAdamsEra & @alldayMAYE to @Therealkiss' studio?

🔥🔥🔥

More on our new deal with @defjam → https://t.co/xX1BUbGsG9 pic.twitter.com/QnJ2iKCyWZ

— New York Jets (@nyjets) August 21, 2018
The New York Jets have announced a new partnership with Def Jam Recordings. The deal marks a collaboration between two iconic New York brands, focusing on three main elements: music, content and in-game experience.
With the key role that music plays within the NFL and Def Jam's commitment and passion for hip-hop culture, the partnership allows for the creation of exclusive, unique content and music surrounding the team.
"Through our partnership with Def Jam Recordings, we are looking to amplify our in-game experience and provide fans with entertaining content from their truly talented artists," said New York Jets President Neil Glat. "In collaboration with this New York company that is recognized all over the world, we are excited to see what new and unique endeavors await our fans."
As part of the new partnership, Def Jam will create a Jets Anthem to be heard during home games at MetLife Stadium. The custom track will be part of the pregame ritual as the team takes the field.
"Def Jam Recordings is a vital part of the cultural fabric of New York City," said Scott Greer, Executive Vice President, Marketing & Commerce, Def Jam Recordings. "Our artists are always on: whether making hit records, creating content or moving culture forward. Collaborating with another iconic New York brand like the New York Jets to create content and original in-game music has a natural synergy for our brand and our audience, and is a great way for Def Jam to bring fans of the Jets and hip-hop together and broaden the reach for our artists."
A video content series will also be created, featuring the interaction between Def Jam artists and Jets athletes. The series will highlight the combination between the brands through various elements this season. The first video of this series will provide viewers with an exclusive look at second-year safeties Jamal Adams and Marcus Maye's visit to Jadakiss' studio in Yonkers, NY.
Additionally, Def Jam will provide the Jets with new music, along with classic hits from artists spanning their vast library to be used in weekly hype videos leading into game day. The hype videos will live on New York Jets social media channels throughout the season.
Follow @eldorado2452 on Twitter and Instagram for all your NFL and sports news.
© 2018, Eldorado2452. All rights reserved.