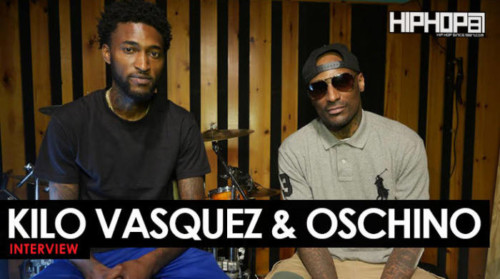 Recently North Philly was ranked the most dangerous place to live in Philadelphia. The area has always been extremely hard to make it out of but there are always a few gems that find a way to succeed. One artist that represents North Philly and is determined to make it is Kilo Vasquez.
Kilo Vasquez is getting ready to release his new joint project with his friend and legendary Philly rapper Oschino Vasquez. HHS1987's own Rick Dange linked up with the 2 in E.R. Studios last week for an exclusive interview about their upcoming project and much more. Kilo Vasquez & Oschino talk about getting into rap and they met each other. They also talk about their upcoming joint project which drops any day and how they decided to actually do a joint project. Oschino also talks about linking up with Beanie Sigel and squashing their beef. And of course Oschino talks about his current issues with State Property member Neef Buck.
Checkout this exclusive interview and get to know Kilo Vasquez & Oschino!!
This interview was shot and edited by Rick Dange.
© 2018, RickDange. All rights reserved.