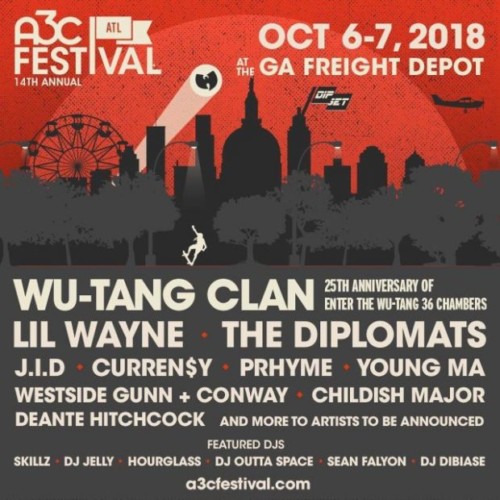 The good folks at A3C may have out done themselves this year. Recently, A3C released the names of performances at this year's festival and they have a few heavy hitters.
Proud to announce our outdoor stage for this year's festival featuring @WuTangClan @LilTunechi @JIDsv @CurrenSy_Spitta and many more! Tickets on sale now #A3C18 #A3CFestival pic.twitter.com/VtEnc6ctb8

— #A3C18 (@A3C) April 24, 2018
Later this year in October, the Wu-Tang Clan, Lil Wayne, The Diplomats and more are set to rock the stage at the GA Freight Depot on October 6th and October 7th. Other acts will include Deante Hitchcock, PRhyme, J.I.D, Currensy and more. There will also be a fee DJ sets from Skillz, DJ Jelly, Hourglass, DJ Outta Space, Sean Falyon and DJ Dibiase.
Stay tuned as A3C will be releasing more details on the 2018 festival as the weeks move forward. Purchase your tickets here and may sure you follow @eldorado2452 on Twitter and Instagram for all your music and entertainment news.
© 2018, Eldorado2452. All rights reserved.