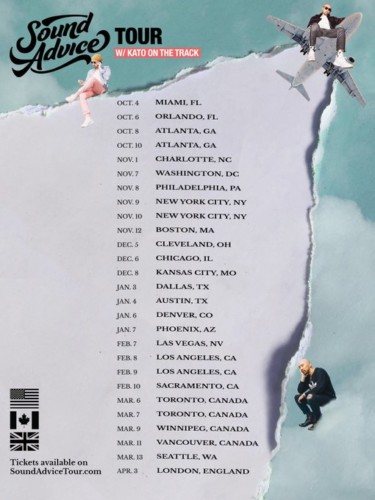 Music producer Kato has produced for multiple artists such as Joyner Lucas, Wu-Tang Clan, Tory Lanez, B.o.B, Rock City, K Camp, Denzel Curry, Jarren Benton, and Hopsin, to name a few. As he climbed to notoriety charts in his field, he made it his purpose to take his knowledge to teach others who are aspiring to be in the same field.
Kato launched Sound Advice earlier this year and is already projected to be a six-figure business by year-end. The company is designed to give emerging Artists, Producers and Songwriters unbiased feedback on their music, as well as advice on the music business and entrepreneurship. The company quickly grew because people who have reached Kato's success tend to not share their gems. He coaches both in person and online all while sharing courtesy tips via social media where he has built his brand of nearly 200,000 supporters.
Kato just announced the Sound Advice tour which will kick off October 4th in Miami, FL and hit over 20 major cities including Toronto and London. The tour will allow Songwriters to get in the studio with him and cultivate a unique experience. In addition to that he'll also be featured at A3C Hip-Hop Festival this year, while working on new music with some new artists he discovered through Instagram. To date, Kato has coached over 500 students. He watched his students and mentees quit their jobs to pursue music full-time and receive their very first placements and credits with major artists. The success rate is what keeps him going as well as what inspired the tour.
Hailing from the parents of South Korean Immigrants, Kato didn't start taking music seriously until later in his career. It was always a passion for him but he knew it wouldn't meet his parents expectations. Early on, his dad put him in drum lessons and he was a band kid throughout high school. He fell in love with music at a very young age but it was viewed as more of a hobby than a career. It wasn't until he left home for college and discovered he could make his love for production and making music a reality.
Here are the 5 reasons people should attend the Sound Advice Tour:
1. Connections. Aside from meeting me, if there's one thing I've learned in this business, it's that you never know who you're sitting next to. I've been in rooms where the person I least expected to pop off ends up becoming a Multi-Platinum and Grammy-Nominated Artist in 5 years. Relationships are EVERYTHING and meeting people in your own city (before they blow up) can be super beneficial.
2. Music feedback. If you're an Artist, Producer or Songwriter, this is your chance to get some clarity and unbiased feedback on your music. I might tell you that kick or snare needs to slap harder, or your vocals need to be turned up. Or, I might LOVE everything I hear from you and we collab on something down the line. Either way, it never hurts to get a professional ear to your music.
3. Get discovered. This tour isn't just for you. When I pull up to these cities, I'm also using it as an opportunity to find new talent. It's my way of connecting with the next wave of music creators outside of social media. If your music is dope, I want to hear it. You never know what could happen after that.
4. Learn the business. If you know anything about me, you know that I'm big on learning the BUSINESS of music. Getting your money, signing deals, landing placements, how to network, etc. Music is half of the game, but often times less. You should never forget that it's a business and more importantly, YOU are a business.
5. Special guests. I've only been through 3 stops of the tour so far, and we've already had guest appearances from Grammy-award winning Producers, Recording Artists, music marketing influencers, and other experts in the business. Believe me when I tell you that I plan on having MANY more guests pop up on this tour. That just means more value and opportunity for you.
Checkout Sound Advice for more details and follow @KatoProducer on social media.
© 2019, Eldorado2452. All rights reserved.