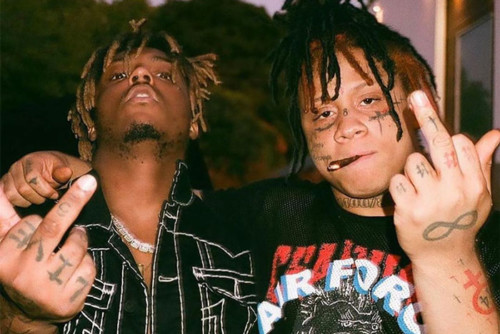 Say no to drugs.
Trippie Redd, in the aftermath of Juice WRLD's tragic and untimely death, has vowed too quick doing hard drugs. The death of his industry colleague was a "wake up call" and Redd wants to make a big change to his lifestyle.
"Everybody need to use this time as a wake-up call. If it ain't weed, we ain't doing it no more, period. When I say we, I say us as a group, us as a whole, the whole emo music artists. No drugs."
Trippie recently collaborated with Juice on his recent album, "A Love Letter to You 4."
"It's not cool. We look up to all these bigger artists, all these grown-ass men and all they do is talk about poppin' pills and sippin' codeine and all that shit," he added. "It's music. Ni**as know what they get they self into but at the same time, it's like, we gotta be the strongest people to be like, OK, ni**as is just using this for rhymes at this point. Let it just be that, you feel me? I'll be the first to say, I ain't sippin' no lean, I ain't poppin' no pills. But I'ma still talk about it in music, maybe, just because it's a feeling."
Juice wrld was 21. He was a product of our generation of rappers who glorified drugs and made it cool. Im blaming Yal niggaz for this shit. 🤦🏽‍♂️ all that lean and pills niggaz glorify and talk about. You teaching the kids to do it. Smh you happy now?Rip @JuiceWorlddd. Gone too soon

— Joyner Lucas (@JoynerLucas) December 9, 2019
© 2019, MariaMyraine. All rights reserved.