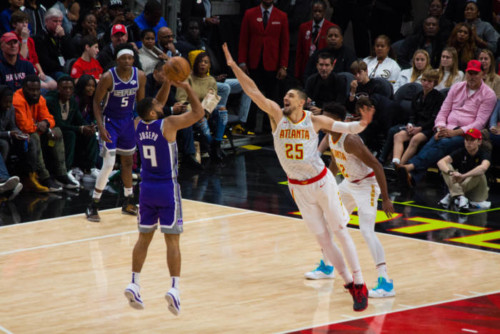 The now (3-5) Atlanta Hawks were back in action on Friday November 8th hosting the now (3-6) Sacramento Kings. Friday's game was the last game of the Hawks current home stand before heading out on a 5 game west coast trip so they were looking to head out west on a winning note.
Things didn't start off well for Atlanta though in the first half. The Kings were on fire from three point land early and they never looked back.
The Hawks couldn't score in the first half and their struggles from beyond the three point line continued. The Hawks shot just 12% from three in the first half and they trailed at halftime (63-47).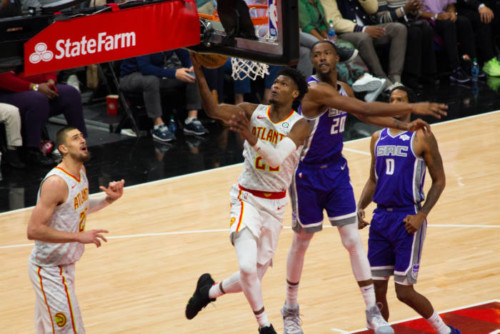 Atlanta and Trae Young came out of the half on a mission. Trae Young scored 16 points and dished out 4 assist in the first ten minutes of the second half helping to cut into the Kings lead. The Hawks out score the Kings (36-28) and went into the fourth quarter trailing (91-83) carrying all the momentum with them. Trae Young scoring 16 points in the third quarter, the third time he has scoring 16 points in a single quarter.
The Hawks provided all the excitement Hawks fans were looking for in the final period. After coming into the quarter tailing (91-83), the Hawks went on a (10-2) run to start the quarter and brought the game to within one point (94-93) with just under nine minutes remaining.
That however was all the fun the Hawks would have on the evening.
After the Hawks narrowed the Kings lead to just one point, the Kings answered with a shower of back to back three pointers. Within a minute of action, the dreams of an Atlanta Hawks come back were shattered. The Kings went on to go on a run and defend the Hawks (121-109).
For the Hawks, the leading scorer on the night was Trae Young who finished the game with 30 point and 12 assist. Jabari Parker continues his scoring streak as he scored 25 points along with 8 rebounds. Kevin Huerter was on fire from three point land tonight and he finished with 17 points, shooting (4-7) from three point land.
For the Kings, the leading scorer on the night was Buddy Hield who finished with 22 points and 5 rebounds. De'Aaron Fox added 17 points and 9 assist.
The Atlanta Hawks are off to west coast for a 5 game west coast trip. The Hawks will face the Blazers, Nuggets, Suns, Clippers and Lakers during the trip before returning home on November 20th vs. the Milwaukee Bucks.
Follow @eldorado2452 on Twitter and Instagram for all your Atlanta Hawks, NBA and sports news.
© 2019, Eldorado2452. All rights reserved.