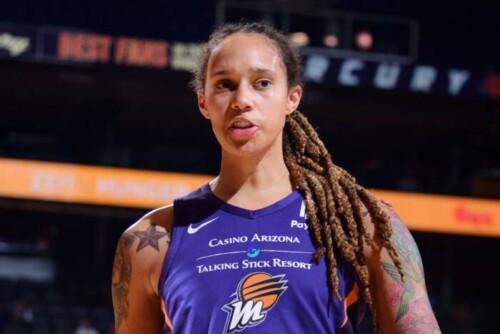 "If the league continues to want to play it, that's fine. It will be all season long, I'll not be out there," she said.
WNBA star Brittney Griner is requiring the association to quit playing the national anthem before games and says that she won't be on the floor on the off chance that it is played. 
During a video chat on Monday (July 27), Griner made her position on the anthem known. "I honestly feel we should not play the national anthem during our season," said the Phoenix Mercury center, according to the Arizona Central. "I think we should take that much of a stand."
She included, "I don't mean that in any disrespect to our country. My dad was in Vietnam and a law officer for 30 years. I wanted to be a cop before basketball. I do have pride for my country."
On Saturday (July 25), none of the Mercury and Los Angeles Sparks players were on the court during the playing of the national anthem. The ladies were protesting for justice for Breonna Taylor, a 26-year-old Black lady who was lethally shot by Louisville cops. 
"I'm going to protest regardless," Griner continued. "I'm not going to be out there for the national anthem. If the league continues to want to play it, that's fine. It will be all season long, I'll not be out there. I feel like more are going to probably do the same thing. I can only speak for myself. At the Olympics, I understand, you're playing for your country at that point."
The WNBA is proceeding to remain in solidarity with the Black Lives Matter development. Players on the Seattle Storm and the New York Liberty groups held a 26-second moment of silence for Taylor on Saturday. 
"We are dedicating this season to Breonna Taylor, an outstanding EMT who was murdered over 130 days ago in her home," Liberty star Layshia Clarendon said before the game began. "Breonna Taylor was dedicated and committed to uplifting everyone around here."
She included, "We are also dedicating this season to 'Say Her Name' campaign, a campaign committed to saying the names and fighting for justice of Black women – Black women are so often forgotten in this fight for justice, who don't have people marching in the streets for them."
© 2020, Jonathan P-Wright. All rights reserved.