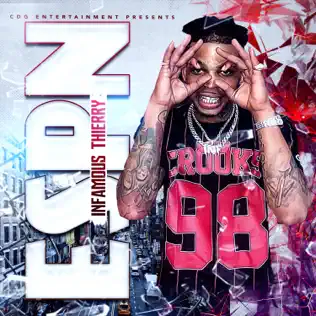 CDG Entertainment rapper Infamous Tierry drops his new single "ESPN," a track that is primed for sports highlights and jam-packed sports arenas. Weaving his voice between a rumbling bass, Infamous Tierry intertwines his lyrics with a menacing beat.
Keeping close ties to the sports world, Infamous Tierry has friendships with athletes across Louisiana where the LSU Tigers, the NFL's New Orleans Saints and the NBA's Pelicans call home.
With sports in Louisiana being such a popular lifestyle, this song is a clear anthem for the championship mentality that so many athletes from Louisiana possess.
"ESPN was created in ATL during some studio sessions set up by Rod, on my management team.  He's got ties with QC and so I went down there and we did like three tracks during a studio session. I chose like maybe two, like three beats, I think K Major and Buggy both collaborated on the beats, but ESPN was one of those records." Infamous Tierry said. "I knew what I was going there to do, and it had a good feel to it, I think you can hear that in the song. I think a lot of people really like the energy of the song."
Growing up Infamous Tierry always played sports, but injuries and the streets took over as he turned to music as a way to express himself .
Going forward Infamous has his eyes set on an EP release and new visuals to continue the momentum leading into his next single release, "Big Homie" which was also recorded in Atlanta with "ESPN."
"I'm definitely about to drop an EP or album, depending on how we decide to structure it. I got a lot of music videos, a lot of visuals, and a lot of different types of content. So we're gonna do some contests, and a lot of different other things to keep the fans engaged and riding with the movement from BR to across the globe."
© 2023, Seth "Digital Crates" Barmash. All rights reserved.