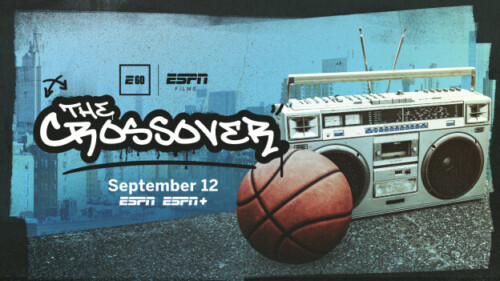 Sports and Hip Hop are two pillars of Black culture that empowered a community to be heard and celebrated against the backdrop of cultural oppression and political persecution. As the 50th anniversary of the founding of Hip Hop is celebrated, a new ESPN special presentation examines the evolution of this defining culture and its relationship with sports, through nostalgic archives, historic moments and original interviews from those who lived it.

The Crossover: 50 Years of Hip Hop and Sports, an E60 production in association with ESPN Films, will make its television debut on Tuesday, Sept. 12, at 7:30 p.m. ET on ESPN, available immediately after the initial airing for on-demand streaming on ESPN+.

Fifty years ago in the Bronx, a new genre of music was born, the product of a people searching for their voice and the opportunity to be heard. For decades, the community was bound by the words of leaders like Martin Luther King and Malcolm X before their assassinations attempted to thwart the messaging.  While their lives ended, the impact of their words never would, instead paving the way for others.

Soon, athletes and entertainers would step to the microphone and boldly become the sound of a new generation and an inspiration to their people. When the world looked to silence them, the culture found a way to speak louder than ever before. From Muhammad Ali to Public Enemy, Jay-Z to Lebron James and beyond, the impact on sports has been indelible.

Many rappers, artists and other personalities from the world of Hip Hop are interviewed in the program, including:

Big Daddy Kane – rapper

Fab 5 Freddy – director and cultural icon

Fat Joe – rapper

DJ Jazzy Jeff — DJ

Rakim — rapper

E-40 – rapper

Killer Mike – rapper

MC Lyte – rapper

Rick Ross — rapper

Ice Cube – rapper/actor

Luther Campbell (Uncle Luke) – rapper

Charlamagne The God – radio host

Too Short – rapper

Among other voices in the program:

Nikole-Hannah Jones – writer "The 1619 Project" (The New York Times Magazine)

Angele Rye – host and cultural commentator

Michael Eric Dyson – author Entertaining Race
Dr. Todd Boyd – professor of Race and Culture, University of Southern California

Laila Ali – daughter of Muhammad Ali and former professional boxer

Michael Wilbon – journalist

Jemele Hill – journalist

Danyel Smith – author

Ari Melber – host, MSNBC's The Beat

Leslie Small – film director; PhD in Economic Development

Jesse Washington – journalist/filmmaker

Jalen Rose – former NBA and college basketball player

Justin Tinsley – sports and culture reporter

The Crossover: 50 Years of Hip Hop and Sports was directed by Julian Gooden and produced by Blake Foeman, Jeremy Williams, Frank Saraceno and Angela Rye.

After the initial airing, in addition to being available on ESPN+, the program will re-air multiple times on ESPN networks.

The program made its world premiere on Aug. 11 at the Martha's Vineyard African American Film Festival (MVAAF).
© 2023, Seth "Digital Crates" Barmash. All rights reserved.