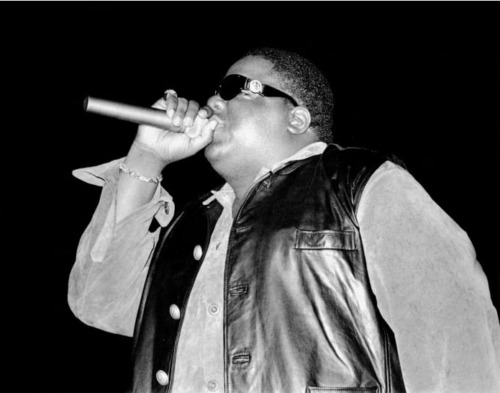 Christopher Wallace, known to the masses as Biggie Smalls or the Notorious B.I.G. would have turned fourty eight today. While his life was cut short at just twenty four years old his impact is still felt all these years later. Inspiring artists such as Childish Gambino, Wiz Khalifa, Big Sean, J. Cole, and even being quoted by House impeachment manager Rep. Hakeem Jeffries during the impeachment trial of President Trump saying "and that is why we are here, Mr.Sekulo. And if you don't know, now you know." His Discography includes 2 studio albums, 27 singles and 3 posthumous (after death) albums. With Billboard hits such as #1 in 1997 "Hipnotize" and top hudred hits , "Stop The Gunfight" 1997, "Going back to Cali" 1998, "Notorious B.I.G" 1999, and "Nasty Girl" 2006. His Albums have sold millions of copies, "Life After Death" 5.3 mil.,and  "Ready To Die" with 3.8 mil. Though his music career was short the legend lives on through the artists he's inspired and his music that continues to speak to generations.
THE HISTORY
Biggie Smalls was born on May 21, 1972, at 'St. Mary's Hospital' in Brooklyn, New York, to Voletta Wallace and Selwyn George Latore. His mother was a Jamaican preschool teacher and his father was a small-time politician and welder.
He had a rough childhood as his father left the family when he was just two years old. His mother had to take up two jobs to sustain the family.
He attended the 'Queen of All Saints Middle School' where he excelled in English and won many awards. He became overweight by the age of 10 and was nicknamed 'Big.'
From an early age, he had seen many drug addicts and dealers all around him. Biggie started dealing drugs as early as 12 while his mother went out for work.
He attended 'George Westinghouse Career and Technical Education High School' after transferring from 'Roman Catholic Bishop Loughlin Memorial High School.' His mother Voletta said he adapted a 'smart-ass' attitude, though he was still a good student.
He dropped out of school at 17 and gradually got involved in criminal activities. He was arrested in Brooklyn in 1989 on weapon charges and was sentenced for probation of five years.
He was again arrested in 1990 for violating his probation and again after a year for drug dealing in North Carolina. He had to stay in jail for nine months before getting bail.
He made a casual demo tape titled 'Microphone Murder' under the name 'Biggie Smalls.' The name was inspired from his own stature as well as from a character of a 1975 film 'Let's Do it Again.' The tape was promoted by Mister Cee, a New York based DJ and was heard by the editor of 'The Source.'
In March 1992, the 'Unsigned Hype' column of 'The Source,' which is dedicated for aspiring rappers, featured him. The 'Uptown Records A&R' signed him after hearing the demo tape.
In 1993, when Sean Combs, the record producer of 'Uptown Records A&R,' was fired, Biggie Smalls signed with Combs' 'Bad Boy Records.'
On August 8, 1993, he had his first child T'yanna, a daughter from his long-time girlfriend. He split with his girlfriend before his daughter was born, but wanted his daughter to complete her education. To financially support T'yanna, he continued to deal with drugs. When Combs came to know about this, he made Biggies Smalls quit.
In 1993, he worked in the remix of Mary J. Blige's 'Real Love.' While working for 'Real Love,' he used the pseudonym 'The Notorious B.I.G.,' the name he used for the rest of his career. He followed up his work with 'What's the 411,' another remix of Blige. He debuted as a solo artist in the film 'Who's the Man?' with the single 'Party and Bullshit.'
As a solo artist he hit the pop chart on August 1994 with 'Juicy/Unbelievable.' His debut album 'Ready to Die' was released on September 13, 1994 and attained the 13th position on the 'Billboard 200' chart. It also received six platinum certifications from the 'Recording Industry Association of America' (RIAA). At a time when the West Coast hip hop was dominating the mainstream, this album became a huge success, making him a prominent figure in the East Coast hip hop scene.
In July 1995, the cover of 'The Source' featured him along with the caption 'The King of New York Takes Over.' In August, he was named as 'Lyricist of the Year,' 'Live Performer of the Year,' and 'Best New Artist (Solo)' by 'The Source.' Also, his album was named the 'Album of the Year.' He also became the 'Rap Artist of the Year' at the 'Billboard Awards.'
He became friends with rapper Tupac Shakur and often visited his house and traveled together. According to emcee Yukmouth, Biggie Smalls' style was inspired by Shakur. Later, he got involved in a feud between East Coast and West Coast hip hop with Shakur.
In August 1995, 'Junior M.A.F.I.A' his protégé group comprising of childhood friends released their debut album 'Conspiracy' which led to chart success. The album received gold certification and two of its singles, namely 'Get Money' and 'Player's Anthem' went platinum and gold, respectively. He became the highest-selling solo male rapper and artist on the U.S. pop and R&B charts.
Recording of his second album began in September 1995 but was interrupted due to injuries, hip hop disputes, and legal squabbles. In the album 'HIStory,' he worked with Michael Jackson.
He was arrested outside a nightclub in Manhattan on March 23, 1996, for manhandling and threatening to kill two of his fans who were seeking autographs. He faced a sentence of 100 hours of community service. Again in the middle of the year, he was arrested from his home at Teaneck, New Jersey, for possessing weapons and drugs.
On September 7, 1996, Shakur was shot in Las Vegas, Nevada, and he died six days later. Rumors of Biggie Smalls' involvement in Shakur's murder were doing the rounds and were reported immediately.
While he was recording his second album 'Life After Death,' he met with an accident that crushed his left leg and made him wheelchair bound for a short time.
In January 1997, he faced an order to pay 41,000 USD for a dispute that occurred in May 1995 where a concert promoter's friend accused him and his entourage of beating him up.
In February 1997, he went to Los Angeles to promote his upcoming album 'Life After Death' which was scheduled for March 25 release.
On March 7, 1997, he attended the 1997 'Soul Train Music Awards' and presented an award to Toni Braxton. On March 8, he attended the after party at 'Peterson Automotive Museum,' hosted by 'Quest Records' and 'Vibe' magazine.
While leading his uncertain life as a teenager, he began exploring music and performed rap on streets with local groups, such as 'Techniques' and 'Old Gold Brothers.'
(TIMELINE FROM THEFAMOUSEPEOPLE.COM)
THANK YOU BIGGIE SMALLS FROM ALL OF HIPHOP
© 2020, Wilde Tuna. All rights reserved.