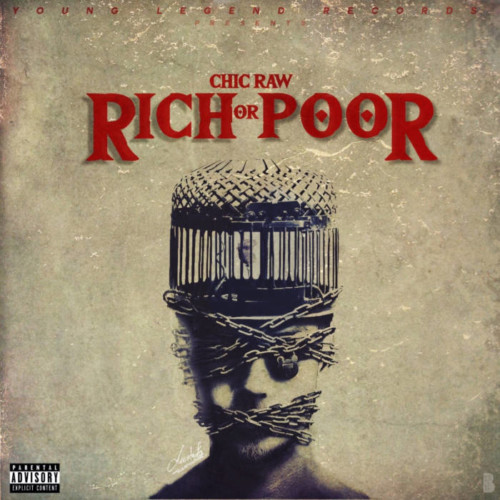 CLICK ON ALBUM COVER TO LISTEN TO ALBUM
THE YOUNG LEGEND DROPS A CLASSIC PROJECT
CHIC RAW is a rapper out of Philly who has been putting out hip hop music in Philly for well over a decade. Like so many other Philly Rappers, Chic Raw saw his name recognition in the mid-2000s due to his appearances on Big Star's 2 Raw 4 The Streets DVDs, his classic freestyles and delivery. One of his classic rap videos from this series can be scene below (which happens to be one of the best clips this video series ever put out). Chic is known for his gritty style and portrayal of a hustler living in hood. But Chic Raw has evolved as a rapper from his early days and has developed into an all around MC. 2018 we got "Definition" 2020 we have "Rich Or Poor".
Chic spits from the heart, and is a veteran of the Philly hip-hop game. His first and most successful mixtape Shots For The Streets dropped in 2003, but like most artists, the real buzz didn't come until years after, and by then, he was already incarcerated for 3 years on drug-related charges. During that time in prison, he came to realize that his arrest was a blessing, and continued to collect his thoughts and words in a notebook. And with the birth of his daughter, he left his former street life behind, but you'll still always find traces of it in his rhymes."- The Deli mag
CHIC RAW PUTS PHILLY BACK ON THE RADAR
In his recent release "Rich or Poor" Chic shows his growth with the opening single "Prisoners". Speaking on growth, obersvation, hustle and understanding. Followed by six more authentic records, Chic was ready to deliver this pain and landed a spot on my 2020 playlist. Laws of the trenches, a much needed guide to the habitat of the Philadelphia streets, which is relative across the world. Every city has a ghetto and this is the music to tell its story. "No more Papi Stores and splitting a sandwich", a qoute from "Drifting" is just one of the thousands of references we can only love and embrace. The everyday talk about money and flexing was never the Philly way and Chic stays true to the game by telling it like it is. Story telling ability, with a solid production and enough drip to stay relavent, this is the one Chic! When an artist loves his craft you get classics like this and now we are left to wait on the next drop.
We Need More! For those who have not had the honor to hear his previous work, click the video below. Don't just take my word for it tune in to one of the hottest artist in the tri state right now!
© 2020, Wilde Tuna. All rights reserved.