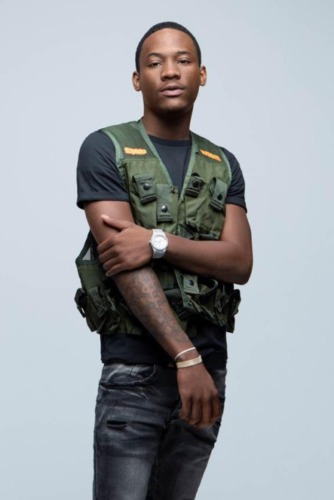 Stopping by the legendary stage of S.O.B.s (Sounds Of Brazil) in New York City, I got the chance to witness Simxsantana hop on stage and perform. While New York native Smoove L was the main attraction and Simxsantana shared the stage with fellow ascending star Yungeen Ace, he wasn't outshined but fit in perfectly. Songs of passion, pain, and prominence decorate the young emcee's current library.
He's a star by every sense of the word, but the humility of his character and voice was present consistently throughout our recent phone conversation. Splitting time between West and South Philly, Sim grew up in a Hip-Hop dominated household, hearing the sounds of the iconic The Notorious B.I.G. and 2Pac along with New York stars 50 Cent and Jim Jones groundbreaking hits influenced Sim to pursue hip hop and take it to another level.
"For some reason, I always knew I had the gift of rapping," Sim told me passionately. "When I was messing with freestyles and stuff, the bars I recited were clever to not only me but my peers. Listening to 50, Jim Jones, Pac, Biggie, and other stars gave me a natural sense of what good music is supposed to sound like. However, I was passionate about basketball as well, so I had a choice of which passion I wanted to pursue. So I chose to rap and took it to another level."
https://open.spotify.com/track/3QyQe3npGwN4MArb6Y9KWa
At the age of 15, Simxsantana fully embraced the genre and took it full force. When he turned 17, he reassured his mother that he was going to make it big! He wanted to be a face of pride and joy for the city of Philadelphia. The love he has for both sides of his city fuels him to showcase the versatility in his music and keep him focused.
"John, here's the clear difference in two sides of Philly I grew up in, the west and south. The 'hood morale is present in the South and West side of town is where more of the fun happens," he said. "Parties are always happening, and more children are outside. However, the southside is a different story.  South Philly is where I saw a lot of the real shit. I saw shootings, stuff like that."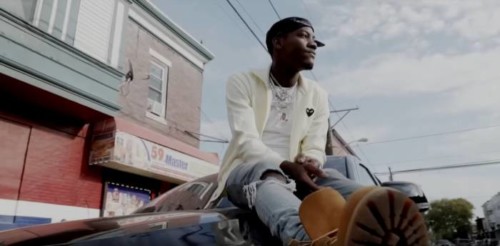 Trending the line between both worlds, it inspired Sim to pursue music harder to help out the hoods of Philadelphia one day. When he wasn't engaged in street culture, he honed his rap skills at a friend's home studio in the Wynnefield section of the west side of the city, sporadically posting tracks on Soundcloud and occasionally dropping a music video when a neighborhood elder would spot him the cash to afford production costs.
https://open.spotify.com/track/2jOeMNu1fLVuJhJtWwTTaE
This all led to his breakout hit "FLEXIN N' FLASHIN," which showcases his balance in his hood nature but civil attitude. He took the culture of both west and south Philadelphia to curate the single. Over thrilling bass production, Sim boasts about hustling through a cloud of smoke in the backseat of his lux car,making a point that he should be taken seriously. Around the time, the track reached 800,000 plays on Soundcloud and accumulated over 6 million views on Youtube in 5 months, leading major recording labels to notice him. He took several meetings but settled with Columbia Records. "I loved their vibe," he recalled over the phone and stated, "he knew this is the one for me; I can be myself and grow here."
Now at the age of 19, Sim is locked in at the studio, recording his forthcoming mixtape set to release April 10th. The goal of the project for him contains bigger aspirations than that of being the next big thing in hip hop. "I want it to be fun," he told me, then paused and continued. "The streets of Philly aren't fun. People from outside might think so. But our people know. So I want people to hear my music and escape through it."
With the passion I heard in his voice and watching him live, I know he will make it big for his city and give back. The same energy I feel from fellow Philadelphia native and one of my favorite artists, Meek Mill, I can sense from Simxsantana. His time is now, and he knows it!
"Right now, the two most important things going on right now are my tape and my birthday. I can't wait to see the effect it has in my city since I'm beginning to have a big name, so I have to put on for them. The second most important thing is my birthday because I finally get to enjoy myself. My past birthdays have been straight work, no days off because I didn't have the money to do so, but now I can finally enjoy it this year." – Simxsantana's final line wrapping up our conversation with his plans for 2020
Livengoodlivin 
Media Correspondent/Publicist 
410-390-2000
University of Maryland Eastern Shore Class of Fall 2016 B.A.
Bowie State University Class of Spring 2019 M.A.
© 2020, Wilde Tuna. All rights reserved.