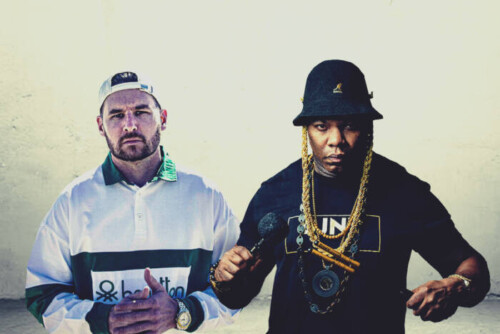 In this fresh new in-studio video, the gifted duo of Bobby J From Rockaway x Daru Jones deliver their stylish and unique homage to "Take It Personal," the Gang Starr classic from their legendary LP, Daily Operation.
Everything about their rendition distinctly blends the old with the new, including Bobby J's personal spin on braggadocious bars, guest singer Gabriela Riley's smooth vocals as the loop, and Daru's impeccable work on the drums. It's a tribute in every sense of the word, especially when you consider that it arrives in the same week that the late Guru would have turned 58 had he not have sadly passed in 2010.
In addition to watching how the track was recorded in this new set of visuals, you can hear it for yourself on the duo's collaborative album, One Mic & Drum. It's a concept album of sorts that itself harks back to the origins of hip-hop, which consisted of two turntables (DJ) and a microphone (emcee). But instead of a DJ playing breaks, Daru actually plays them live on the drums while Bobby J flexes his talents on the mic.
© 2020, MariaMyraine. All rights reserved.