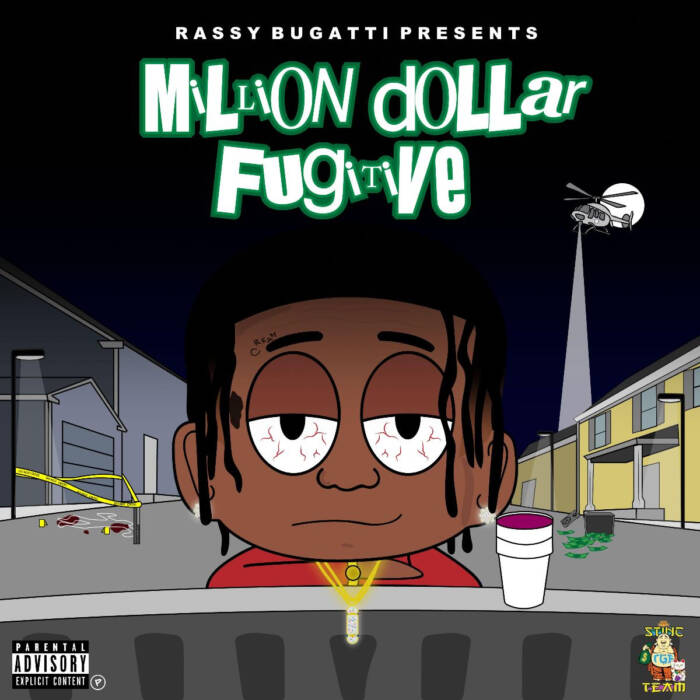 Rassy Bugatti, co-founder of the Stinc Team with cousin Drakeo the Ruler and Ralfy the Plug, has just shared his deeply personal new single "Automatic" along with the announcement of his debut album, Million Dollar Fugitive – out October 2nd via Stinc Team Records. Produced by 96 Chris, "Automatic" chronicles Rassy's life as a million-dollar fugitive: in 2015 he posted an insane $1 million dollar bail and then did the dash, going on the lam a million dollar fugitive. Rassy was caught a year later and locked up in Men's Central Jail in Los Angeles where he and Drakeo remain today.
"I didn't have no picture in the yearbook 'cause I flunked, I was too busy fallin' into sh*t from the jump / caught a million dollar tag, then I did the Forrest Gump."
Rassy's debut album, Million Dollar Fugitive was recorded entirely over the jail phone with the help of JoogSZN, Ron Ron and other Stinc affiliates. The music speaks to Rassy's personal experiences, launching his rap career from behind bars while addressing his previous street sagas with raw, unfiltered candor. While other jail-born projects feature autotune and heavily-effected vocals, Rassy opted for rawness and realness, his voice a symbol for the rough reality of incarceration. That's just what the Stinc Team is all about: triumph amid anguish. From behind bars, their voices carry through Los Angeles and beyond because they speak truths often unheard and frequently overlooked.
Rassy Bugatti – "Automatic"
Million Dollar Fugitive Track Listing
01. Intro (prod. by 96 Chris)
02. Automatic (prod. by 96 Chris)
03. I Am Not A Rapper (prod. by 96 chris)
04. Tookie feat. Wolf Of 9St. (prod. by Mook)
05. Bring The Devil Up Outta Me feat. Santo Tha Plug (prod. by Joog Season)
06. Lane Switchin feat. Ketchy The Great & Roccstar (prod. by Ron Ron)
07. Light Up The Blocc feat. 03 Greedo & Bambino (prod. by Ron Ron)
08. Tranquilizer (prod. by Mook)
09. Dateline (prod. by 96 Chris)
10. Bussy James (prod. by 96 Chris)
11. Sussie Staccs (prod. by 96 Chris)
About Rassy Bugatti:
instagram | youtube | soundcloud | spotify
Life dealt Rassy Bugatti a harsh hand from the onset. When he was just a toddler, Rassy's father was murdered, leaving behind a child to be raised by his mother, grandmother, and older brother. That elder brother impressed dreams of music and street ties upon Rassy, who began rapping by his teens. Using a play on his middle name, the "Bugatti" was a product of the lavish life that Rassy experienced in the streets. "As a youngin', I was doing everything big," he says of six-figure cash stacks, solid gold watches, and shifting foreign cars long before he had a legal driver's license.
A group of his friends around the neighborhood that included cousin Drakeo the Ruler, Ketchy the Great, and Ralfy the Plug leveraged their respect in the street to music. "We were just young n*ggas that were out there doing our thing, as far as getting money, that also happened to rap." The DIY collective built a studio and launched solo careers, each supporting the next. "Sorry Sussie," a Drakeo collaboration, became Rassy's standout. The 2015 Stinc Team release was a street-stuck love letter to a grabbing beat and catchy chorus. Bugatti's melodic voice, inventive lingo, and conversational delivery popped on his debut song.
However, just as music was taking off for Rassy Bugatti, life in the streets caught up. "Sorry Sussie" was recorded while the rapper was on $1 million bail to an arrest that quickly followed a 25-month sentence for burglary and weapons convictions. Despite a seven-figure reason to appear before a judge, Rassy fled—prompting widespread news coverage of the rap hopeful on the run. In 2016, the law caught up with him, leading to his ongoing bid, which he hopes will end in 2022 thanks to Proposition 57. The compelling Million Dollar Fugitive title is based on real life.
© 2020, Seth Barmash. All rights reserved.