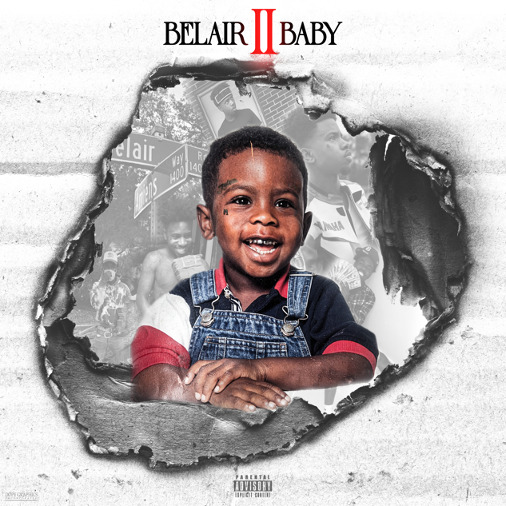 Rhyming with seething intensity and rich attention to maintaining his melodic flow, Pensacola's LBS Kee'vin is raw enough to win admires from all across the state renowned for its beaches. Digging deep into his gritty street tales, LBS Kee'vin shares Belair Baby II, his latest project via Visionary Records/Columbia Records. A deeply personal body of work detailing achieving his goals of generational wealth for his friends and family while crafting a cinematic picture of traumatic experiences and tragic loss.

"I feel like I showed more growth between the 2 projects", Kee'vin says. It shows what I was goin through in life at the time of creating the tape."
Featuring appearances from 42Dugg, Luh Kel, 2KBaby, Juicy J, Yungeen Ace, and Dee Watkins, Belair Baby II sheds another layer of his personality in the sequel to his debut mixtape Belair Baby. With over 7 million streams to date, Belair Baby captivated an audience that was once unheard, and the story continues in Belair Baby II. As LBS Kee'vin plays the role of tour guide, passionately detailing his lived experiences & yearning for growth within his young career. Belair Baby II is available on all streaming platforms – listen here.
Belair Baby II Tracklist
1. Scandalous (Prod. By NIKOINPARIS x SOKUBEATS)
2. JFK (Prod. By Bill Did The Beat)
3. Shining Ft. 42 Dugg (Prod. By Flex, Swaeze, illphill)
4. John Doe (Prod. By Sharke)
5. Lamar Jackson (Prod. By Bugz Ronin)
6. Classy Bitch Ft. Juicy J (Prod. By Young Kilo)
7. Open Diary Ft. Yungeen Ace (Prod.By Hakz Beats)
8. Conceited Ft. 2KBABY (Prod. By Xavi)
9. Lost Files (Prod. By LC, Young Kilo)
10. Toxic Ft. Luh Kel (Prod. By Sharke)
11. Mixed Emotions (Prod. By Drell On The Track x MJ Nichols)
12. Demons (Prod. By DJay Cas For Honorable Court x MTK)
13. Thug Cry Remix Ft. Dee Watkins (Prod. By Drum Dummie)
PURCHASE/STREAM BELAIR BABY II
iTunes | Apple Music | Spotify | Amazon | YouTube | YouTube Music
CONNECT WITH LBS KEE'VIN:
Instagram | Facebook | Twitter | Soundcloud | YouTube
© 2020, Seth Barmash. All rights reserved.