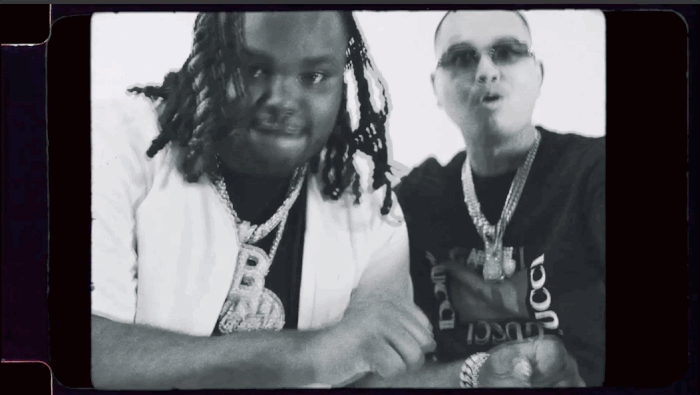 $tupid Young hails from Cambodia Town on the Eastside of Long Beach, CA, and while the street stories he raps about are deeply regional, he's been able to draw in a global fanbase to the tune of 132M YT views and 48M Spotify streams. On his latest, "Wit A Sticc," he taps Tee Grizzley for a song that works as much as a warning to your enemies as it is a plethora of potential Instagram captions, with lines like, "only thing I'm turnin' down is the street I live on," and, "like an uppercase letter, you all cap." In the video, Young is draped in Gucci while Tee Grizzley dons a custom jersey, rapping in front of a Lambo, an Audi, and a full crew of their people carrying what they rap about on the song, "glizzies wit a sticc." 
Hailing from Eastside Long Beach, near the streets that birthed Snoop Dogg, $tupid Young built a huge following on the West Coast and beyond without any co-signs or affiliations. The Cambodian-American emcee has garnered over 132 million Youtube views, and over 80 million combined streams on Apple and Spotify. An unlikely success due to his heritage and his rough upbringing, $tupid Young embodies the underdog spirit, and his songs tell the story of a young man willing himself to succeed through hard work and dedication. The 27-year-old rapper has collaborations on the books with the likes of Lil Durk, E-40, Shoreline Mafia, Jay Park, and Mozzy, who connected with Young for the massive 2017 regional hit "Mando" (43 million YouTube views). Finally ready to show the world what he's fully capable of, Young is putting every thing he has into his upcoming album, his official debut after a long career of mixtapes. Stay tuned for more.
$tupid Young's "Wit A Sticc" ft. Tee Grizzley? Audio // Video 
© 2020, Seth Barmash. All rights reserved.