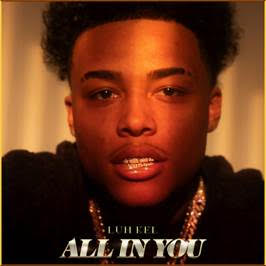 R&B artist Luh Kel premieres a playful fight for his love in his new music video for "All In You." Featured on his upcoming full-length debut album L.O.V.E. and releasing October 23rd, "All In You" showcases the catchy R&B sound that Luh Kel is known for.
Produced by Jonnyshipes and directed by Jon Primo, "All In You" presents Luh Kel's St. Louis charisma while he struts an upscale suave look. Treating the beautiful contestants to dates, a pool scene and a traditional rose ceremony, the young artist ultimately chooses his winner.
Watch "All In You" HERE and STREAM HERE.
Pre-order 'L.O.V.E.' HERE.
"I wanted to bring my own charm and swag to a concept like The Bachelor," said Luh Kel. "'All In You' expresses those feelings of liking someone so much, even if both of you have reservations about making the next step to be with each other."
At only 18-years-old, St. Louis native Luh Kel has earned himself the title of frontrunner in a pool of rising R&B talent. Grinding steadily since his early teens, Luh Kel burst onto the scene last year with "Wrong" – the Jonnyshipes-produced single, his first, found its way onto the Billboard Hot R&B / Hip-Hop Songs chart almost immediately after its release, was certified Platinum by RIAA and was accompanied by a viral TikTok dance challenge. His next two tracks – "BRB" and "Pull Up," another Jonnyshipes-produced song – followed similar success, with both singles certified Gold by RIAA. 
ABOUT CINEMATIC
Cinematic Music Group, recognized by Billboard Magazine in 2020 as one of the most powerful Indie Power Players, was founded by music executive/producer Jonny Shipes in 2007. Initially signing Smoke DZA, Cinematic Music Group quickly rose to the top of the game propelled farther forward upon the signings of Nipsey Hussle, Sean Kingston, Big K.R.I.T., Joey Bada$$, Cam'ron, Flipp Dinero, and Pro Era, among others, netting them multiple number one hits. Cinematic Music Group today represents some of the most respected and talented artists in hip-hop, R&B and other genres including RIAA Certified Platinum and Gold R&B singer Luh Kel, Slayter, Yungeen Ace, Smoke DZA, Nuski2Squad, Capolow, among others. The label brought their artists over 1 billion streams over the last two years.
ABOUT Jonnyshipes
Music executive/producer Jonnyshipes founded Cinematic Music Group in 2007. He discovered and signed a stable of marquee artists such as Smoke DZA, Sean Kingston, Nipsey Hussle, Big K.R.I.T, and Joey Bada$$, while continuing to grow the roster. Cinematic has grown to become one of the most respected and credible independent labels in the game. Lauded by Billboard on their 2020 Indie Power Players list, the label has introduced artists such as the platinum-selling Luh Kel, Yungeen Ace, Slayter, and Nuski2Squad among others. Jonnyshipes is not only the Head Chef at Cinematic but is also a respected and sought after producer. He has produced records for Nipsey Hussle, Luh Kel, Yungeen Ace, Slayter, and Nuski2Squad among others. Most notably, Jonnyshipes' work on Luh Kel's "Wrong" and "Pull Up", both tracks on 2019's Mixed Emotions, helped the songs secure RIAA Gold and Platinum certifications.  Now with over 250 million Spotify streams across the songs that he produced, Jonnyshipes has cemented his reputation as having an ear for discovering and breaking talent, but also as a producer having the ability to create hits.
© 2020, Seth Barmash. All rights reserved.