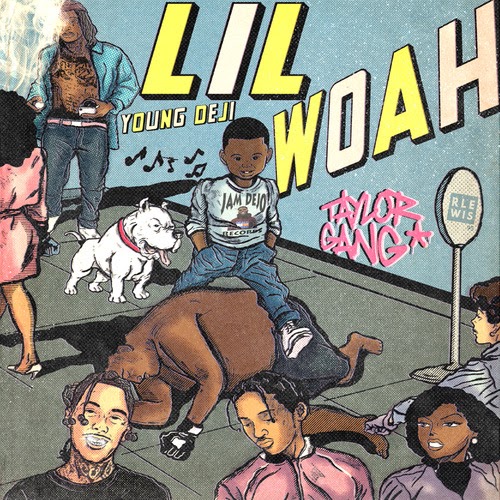 Houston rapper Young Deji returns with his first official album as a member of Taylor Gang titled Lil Woah. As a bonus, Deji shares the official video for his single 'Flaws & All.' The innovator of the popular dance "The Woah" describes his new 14-track project as "his most cohesive and grown up body of work to date." Deji covers all bases on his latest album including his trademark – anthemic party cuts like the eponymous lead single 'Lil Woah.' Where Deji truly shines is his ability to croon, incorporating infectious melodies on tracks like 'Late Night' and 'Affections.' Whether it's a house party, barbeque or strip club, Young Deji's new album Lil Woah has the vibes to cater to any audience.
First rising to prominence as a YouTube star, Deji translated his internet fame into a legitimate music career. The H-town native has become a fixture amongst the new generation of rappers responsible for shifting the culture of the city back onto the national spotlight. In the past year, Deji's profile has grown in popularity, thanks to collaborations with Maxo Kream, Tobe Nwigwe and labelmate Wiz Khalifa. Deji's Wiz-assisted track 'Snapchat' has generated nearly 2 million streams on Spotify since it was released. 
Hailing from the Alief area of Houston, Young Deji represents a new generation of rappers responsible for catapulting Texas' largest city back on the map as a cultural hotbed. First rising to popularity as a YouTube personality, Young Deji released Genesis, introducing a chameleon-like ability to switch styles from bonafide lyricist on 'Trousers' f/ Wiz Khalifa to soulful melody maker on tracks like 'Dips' f/ SK8. Deji describes his current project Lil Woah as a 'statement record' solidifying he's 'here to stay.' Tracks like 'Flaws & All,' 'Late Night' and 'Affections' highlight Deji's talent for melody, seamlessly providing a vibe for any mood.
Stream Young Deji's new album Lil Woah, available now on all DSPs. Don't miss the official video for 'Flaws & All.' Out now!
CONNECT WITH YOUNG DEJI
INSTAGRAM | YOUTUBE | TAYLOR GANG
© 2020, Seth "Digital Crates" Barmash. All rights reserved.