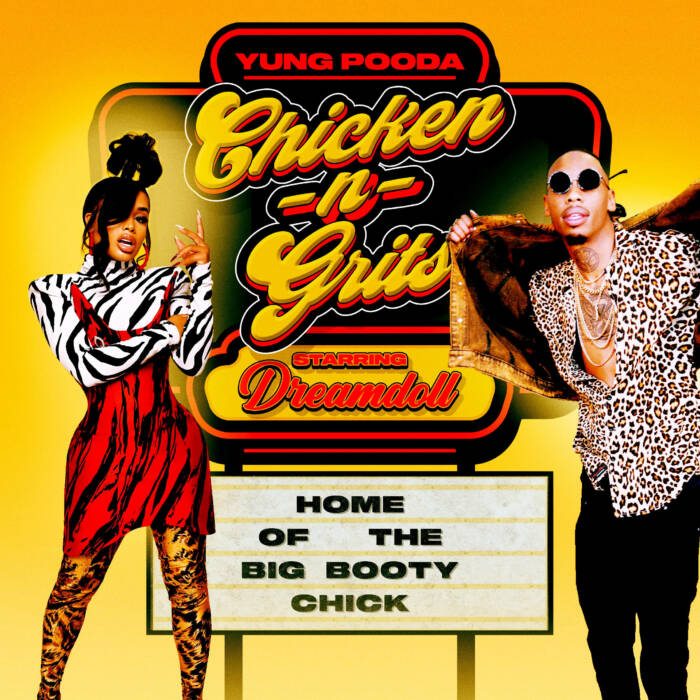 Today, Houston rapper Yung Pooda cooks up a flavorful serving of "Chicken & Grits" on his official sophomore single and calls on New York's finest Dreamdoll for an electric feature on the Cool/Dre [JAY-Z, Beyoncé, Nas] produced track via It's A 10 Records. After sending social media in a frenzy early this week with teasing his latest release, "Chicken & Grits" arrives right in time for Thanksgiving as the rising star fixes another bona-fide hit that delivers a taste of the Dirty South globally. "Chicken & Grits" is now available on all DSP and streaming platforms. Watch the out-of-this-world, accompanying lyric video here.
"I just felt like this is one of those records that you play in the clubs and that you have fun with. This is one of those raw, turned up records that just get you moving. It was only right to release it. We need to have a little fun right now amid these trying times" Pooda says, referencing the new track. 
LISTEN TO "CHICKEN & GRITS" HERE
Solidifying his status as one of 2020's breakout artists—receiving acclaim from Bossip, Elevator Magazine and more, Yung Pooda gears up for a 2021 release of his highly anticipated debut album Vivid Pictures. The forthcoming debut project is heralded by the release of his multi-million streamed debut single "Repeat Dat," which charted the Top 50 Urban and Rhythmic charts and overflows with 2M+ views for the official video via Youtube. Pooda also released a powerful, stand-alone single "Lies Told" this past September. Bossip described the track as a "banger" and BET Jams favored the single as their #1 pick for their 'Fresh Face Friday' lineup. He received acclaim for his unapologetic address of the social climate in his own organic way and proved his versatility in artistry by channeling several creative spaces. The stripped-down visual is rapidly approaching 1M views via Youtube. 
Nothing holds more weight than a promise. In 2019, Yung Pooda found himself at a crossroads between the streets and the studio. After performing alongside legends such as Boosie Badazz, Slim Thug, and Z-Ro, recording with platinum icon Paul Wall, and igniting a buzz of his own throughout the country, the Houston rapper made an important pledge to himself. His pledge changed the course of everything to follow in its wake. "In the middle of recording and getting in all kinds trouble, I promised God I would get out of the streets and just do music," he admits. "I stuck to my word."

Long before this vow, hip-hop called to him as a kid in Orange, TX. Pooda's mother bumped Naughty by Nature's "Hip Hop Hooray" throughout the one-bedroom and one-bathroom house built by his grandfather that he and his mom shared with his grandma. As he puts it, "I used to go nuts to that song!" He used to listen to classics from OutKast, JAY-Z, Lil Wayne, Master P, Ludacris, DJ Screw, and more. When Pooda visited dad, pops actually built a home studio at his spot to cook up beats and DJ. Growing up, he practiced his skills on the mic and sharpened the wordplay, developing a signature style. He sent shockwaves through the city after a successful showcase, earning endorsements from the likes of DJ Hi-C of Houston's 97.9 The BOX who said, "He's always been a lyricist." Inciting local excitement, he performed multiple tour dates with Boosie Badazz and teamed up with Paul Wall for the single " Beat Up The Block." Relocating to Prairie View, he moved into a two-story house with his cousin and two friends where they "were trapping and getting money, but shit got too hectic." At this point, he reset everything. "There were fights, threats, and all types of shit," he recalls. "I ended up saying that prayer."

His music made its way to It's A 10 Records, a boutique label distributed Empire, who immediately signed him in 2019. Now, he properly introduces his signature sound on the 2020 EP, Vivid Pictures. Produced by GRAMMY® Award-winning duo Cool & Dre [JAY-Z, Beyoncé, Nas]. releasing the acclaimed first single " Repeat Dat" during Summer 2020. Pooda is set to debut more new music from the EP soon.
© 2020, Seth Barmash. All rights reserved.