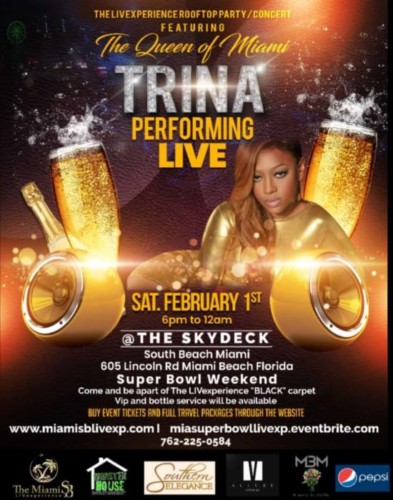 Trina, aka Da Baddest B*tch shut down the stage at The SkyDeck in South Beach Miami during Super Bowl weekend, making an unforgettable appearance during the LIVexperience. The red carpet event was filled with a Rolodex of talent, from many surfacing artists and more.
A few examples from the guest list include Vh1's Cartel Crew cast member Betty Idol, musician Jay Burna, and even Trina's Love and Hip Hop Miami cast-mate Joy Young. The rooftop party was a Super Bowl weekend success, and yet another stage for the Queen of Miami to take by storm.
Trina made her debut to the rap world back in 1998, featuring on "Nann Nigga" by Trick Daddy, and joining the squad at Slip-N-Slide Records. Shortly after, her debut album "Da Baddest B*tch" released in 2000. The rest is literally stamped in history. With being one of the few pioneers of keeping female rap alive, Trina's recognition and respect is beyond earned and deserved. At this point, her accolades speak for her.
Keep up with Trina on her and Trick Daddy's new radio show called "The Trick and Trina Morning Show" via 99JAMZ.
© 2020, alanna. All rights reserved.