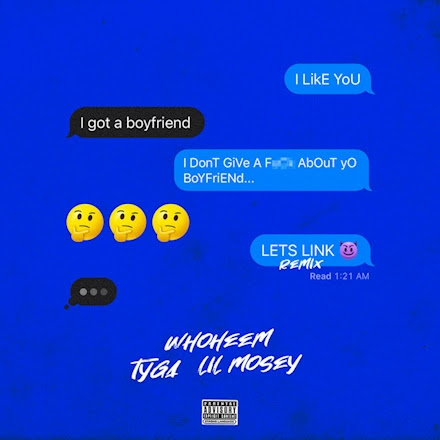 After having shook the TikTok world by storm with his new single "Lets Link," social media sensation WhoHeem has released the official remix to the viral hit, featuring none other than Tyga and Lil Mosey. A few days ago, the Inland Empire rapper took to Instagram to share the announcement for the the release of his new remix. Tyga also shared a preview of the remix on his Instagram, leaving fans impatient for 24 hours before the single dropped.
The original song saw WhoHeem climb up Billboard's Hot100 charts by his lonesome, without any major label backing. Now on the verge of signing his major deal, WhoHeem recruits two of Hip-Hop's most sought after guest collaborators, Tyga & Lil Mosey for the remix. "Lets Link" currently sits at over 75 million streams across all streaming platforms and also boasts an impressive 2+ million video submission on TikTok.
Within a short amount of time, San Bernardino rapper has gone from rapping over high school cafeteria tables at lunch to charting on Billboard. After initially releasing "Lets Link" in August of 2020, it's safe to say WhoHeem has steered his life into a whole new level.
WhoHeem – "Lets Link"(Remix)feat. Tyga & Lil Mosey
In the span of a month, the San Bernardino-based artist finds himself with a viral single, a major label record deal, and a growing buzz as California's next rap come-up with co-signs from the likes of Lizzo and Charlie Puth.

His breakout record "Lets Link," released August 20 has become the internet's latest obsession and WhoHeem's entry point to a complete change in direction. What started as schoolyard freestyles has turned into a full-fledged career path. With over two million videos and counting on TikTok and over 75 million streams across platforms, "Let's Link" is now climbing the Billboard 100, Spotify and Shazam charts as the young rapper's fanbase rapidly follows suit. "I was just doing this for fun, and it ended up being my career," says WhoHeem with a laugh. "I graduated high school and was planning to study business or criminal justice. I wanted to be a real estate agent actually."

Though the sheer speed of the success surrounding "Let's Link" feels impossible to have predicted, WhoHeem's appeal is hardly a mystery. From the intonation of his voice, his knack for melody, raw ability in the booth, and general swagger, WhoHeem carries effortless magnetism that can't be manufactured.
© 2020, Seth Barmash. All rights reserved.